Bond Girl Confirms Idris Elba Really Could Be The First Black Bond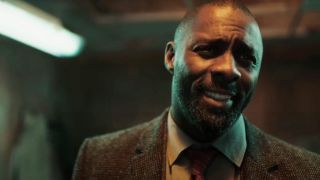 (Image credit: BBC)
Blond Bond Daniel Craig is soon to make his third film appearances as the debonair 007 in the long awaited Skyfall. Critics are already raving about the film and Craig's more cantankerous new version of the aging super agent. So, maybe it's too soon to consider who might take on the iconic role next. But guys, seriously, how cool would it be to have Idris Elba as James Bond?
Rumors about Elba stepping into the role's next iteration have been floating about for a while now. Last fall, Elba confessed he was more than eager to take on the part, should it be offered. But unfortunately for fans that have come to adore him--be it from his growling gravitas on Luther or his excellent work on The Wire--no further news on that possibility has surfaced…until now.
Speaking with The Huffington Post, Skyfall star Naomie Harris surprisingly confirmed that Elba has in fact had a legit discussion to take on the iconic role. Asked if she has any favorites to be the first black Bond, Harris responded:
Harris and Elba recently wrapped production on the biopic Mandela: Long Walk to Freedom, in which they portray Winnie and Nelson Mandela respectively. But more importantly, Idris Elba has met with a producer who has worked on every Bond film since 1987's The Living Daylights! Of course, this doesn't mean that Elba is a lock for the part, as it's likely Broccoli has met with other actors to feel out this possibility of recasting. But while HuffPo offers a poll that suggests Will Smith, Denzel Washington, LL Cool J, and Jamie Foxx as options (even though they're all Americans, and thereby ineligible), I don't think these performers could be nearly as cool and broodingly suave as Elba.
Dear movie gods, please make this happen!
Your Daily Blend of Entertainment News
Staff writer at CinemaBlend.