The Bourne Franchise Has Officially Found Its Female Lead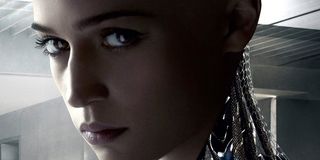 It seems that when Matt Damon makes his long-awaited return to the big screen as the wayward amnesiac ass-kicker, Jason Bourne, he will do so alongside a new lead actress whose star is rising steadily. Confirming previous claims, it is now being reported that Ex Machina star Alicia Vikander has landed the critical co-starring role in the upcoming Bourne 5.
According to a report from Deadline, negotiations first revealed last month have apparently been finalized for Vikander to appear as the female lead in the yet-to-be-titled fifth entry in the Jason Bourne film series. The role marks a major step for the Swedish actress as she rides some serious momentum into the realm of prominent film franchises.
After establishing herself in Swedish television, Vikander started turning heads in wider audiences with appearances with the 2012 adaptation of Ana Karenina, and 2013's controversial Julian Assange biopic, The Fifth Estate, as the love interest of Daniel Brühl's embattled Assange cohort, Daniel Berg. Roles in last year's Son of A Gun with Ewan McGregor and the Jeff Bridges/Julianne Moore sci-fi/fantasy flop, Seventh Son, increased her global visibility. However, it was her starring role earlier this year as the seductively sadistic, artificially intelligent automotan Ava in Alex Garland's sleeper hit, Ex Machina, that opened some seriously promising doors for the career of the vivacious 26-year-old.
Now finding herself courted for numerous big projects, including a prominent role in Guy Ritchie's upcoming big-screen reboot of the 1960's spy series The Man from U.N.C.L.E., the Deadline report indicates that, accepting the part in Bourne 5 has also essentially closed the door to another big-budget prospect that would have seen her starring opposite Michael Fassbender in the long gestating video game adaptation, Assassin's Creed. Making this choice at such a time could imply that the Bourne role is far more potent. This news also apparently revokes her recently reported role alongside Tom Hanks in The Circle.
Yet, potential potency of said role aside, nothing has yet been revealed regarding the Bourne five-quel's storyline, or, for that matter, what sort of role awaits Vikander in this ever fluctuating franchise. The last film saw Jeremy Renner take the lead as a swept-under-the-rug government operative, Aaron Cross, in 2012's critically divisive The Bourne Legacy. (Although, Renner's Cross is may return in his own offshoot film series.) The upcoming untitled fifth entry will not only see the return of Matt Damon as Jason Bourne, but will also enjoy the services of repertory series helmer, Paul Greengrass, who took over the directorial duties from Doug Liman, starting with the second film, 2004's The Bourne Supremacy.
The stage is now set for the prodigal son asset to resurface. He will apparently do so alongside Alicia Vikander and Julia Stiles, who will reprise her role as analyst, Nicky Parsons, with Viggo Mortensen possibly joining in a villain role. The untitled Bourne 5 is currently slated to hit theaters on July 29, 2016. Whether or not that date manages to hold up remains to be seen.
Your Daily Blend of Entertainment News