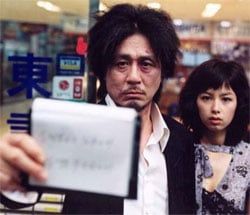 Mr. Vengeance is about to have his moment, and I am Legend scribe Mark Protosevich might just give it to him. THR reports that Will Smith brought Protosevich into talks with he and Steven Spielberg. The two have taken a liking to the second film in the Korean made Vengeance trilogy, Old Boy.
THR reports that the original production company of Old Boy, Mandate Pictures, will stay in the picture with DreamWorks being the major production company for the American movie. Hopefully, Mandate is not only still involved in production to make some moolah, but also to keep the film authentic. There have been so many American remakes of Korean film mess-ups that its getting difficult to count. DreamWorks' move to include Mandate gives the movie a stamp of credibility, but certainly not the seal of approval from hardcore Vengeance fans. The only surefire way to please them would be to not have generic Hollywood types such as Will Smith re-make one of their films.
And what is this Mark Protosevich business? So, he's written I Am Legend, Poseidon and The Cell. The Vengeance trilogy is one of the most violent trio of films ever made. We're not necessarily talking bloody violent; we're talking, knee-cap breaking, killing with bare hands, severe psychological damage violent. This material is not for the faint of heart. Yes, The Cell was a psychological thriller. But, come on, it was a Jennifer Lopez fantasy costume drama. All I'm going to say is that I bet Quentin Tarantino is pissed that Spielberg, DreamWorks and Smith beat him to the punch. Let's just hope they don't Grudge this one up.
Your Daily Blend of Entertainment News