Brace Yourselves: Warner Bros. Is Unleashing Yogi Bear 2 Upon The World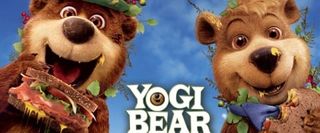 It's worth remembering that Yogi Bear, the animated children's film that was the butt of seemingly half the jokes being cracked last December, wound up being bested by True Grit at the global box office when all was said and done. It's that little scrap of faith in moviegoers that we need to hang on to as we process today's news in Variety that Warner Bros. is moving ahead with a sequel, hiring writers Joshua Sternin and Jeffrey Ventimilia to write another adventure for Yogi, Boo Boo and company.
Sternin and Ventimilia also wrote the relatively well-reviewed Rio for Fox, so there's no evidence they'll turn in complete garbage for Yogi Bear 2-- but also no evidence that Warner Bros. won't turn it into that, since hey, that's what the kids liked the first time. Even though Yogi Bear was indeed beaten by True Grit at the international box office, it did make a pretty respectable $201 million worldwide. With the Smurfs coming this summer there seems to be no end to the trend of blending live-action and CGI to create family entertainment, which has me wondering if anyone might actually try and make one of these that has any appeal for adults. Hey, they did it in Babe. Joshua Sternina nd Jeffrey Ventimilia, you have your challenge: make Yogi Bear 2 the Godfather 2 of talking animal movies. The future of children's entertainment is in your hands.
Staff Writer at CinemaBlend
Your Daily Blend of Entertainment News
Thank you for signing up to CinemaBlend. You will receive a verification email shortly.
There was a problem. Please refresh the page and try again.