Brad Pitt May Team With Angelina Jolie To Fight Poachers In His Next Movie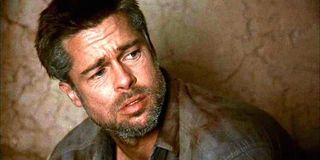 Brad Pitt fought the undead in 2013's World War Z then more recently German soldiers in his epic World War II action-drama Fury. Now with piles of dead zombies and Nazis behind him, he may be ready to team-up with wife Angelina Jolie to battle animal poachers.
The word on the street is that Pitt is in negotiations to embody the character of Richard Leakey in Jolie's fourth directorial effort Africa. According to The Wrap, the biopic will follow the highly-respected archaeologist, Leakey, who became famous for his devoted commitment to defending elephants from Kenyan poachers in the late 1980s.
The script for Africa was penned by the very talented Eric Roth (Forrest Gump, The Curious Case of Benjamin Button). The poaching film will also reteam Jolie with her Unbroken cinematographer Roger Deakins, who's made a name for himself through his collaborations with the Coen Brothers (True Grit, No Country for Old Men, O Brother, Where Art Thou?). Also worth noting, Deakins was the director of photography on the unsuspectingly excellent The Assassination of Jesse James by the Coward Robert Ford, which also starred Pitt.
Jolie may not have yet made a huge splash as a director, but all of the elements seem to be in place for this project. Jolie has quickly been honing her skills off-camera, having already brought two features to the big screen since 2011 with another coming later this year. Her current film Unbroken grabbed three Academy Award nominations, including one for Deakins for Best Cinematographer, so we'll find out in a few weeks if his first newfound collaboration paid off.
Angelina Jolie's next film By the Sea, of which she wrote and directed, will see her teaming up onscreen with Pitt in a film set in mid-70s France. The two will play a couple, former dancer Vanessa (Jolie) and her American writer husband Roland (Pitt), who begin to grow apart during their travels until they connect with with residents of a seaside town. By the Sea marks the first time the pair have teamed up in a movie since 2005's Mr. & Mrs. Smith. You all remember that ridiculously over-the-top spy thriller, right? I actually thought it was much better than it should have been, with some decent action scenes and a few good laughs.
Africa will be produced with Skydance's David Ellison and Dana Goldberg, along with Jon Peters and production is said to begin as soon as this summer.
Your Daily Blend of Entertainment News
Your Daily Blend of Entertainment News
Thank you for signing up to CinemaBlend. You will receive a verification email shortly.
There was a problem. Please refresh the page and try again.