Breaking Dawn Producer Explains How The Birth Scene Will Be PG-13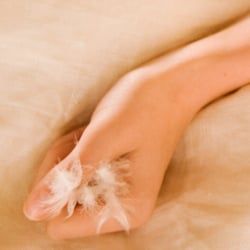 Even people with no interest whatsoever in the Twilight franchise have been paying attention to reports from the set of Breaking Dawn, specifically to details on how the teen-friendly franchise will get away with shooting both Bella and Edward's hot-and-heavy wedding night and the violent birth of their half-vampire baby Renesmee. Around Thanksgiving director Bill Condon tweeted a photo from the set that suggested the wedding night would be pretty true to the novel, but now producer Wyck Godfrey is talking to USA Today about how exactly they'll sanitize the birth in order to snag the all-important PG-13 rating.
He makes a fair point explaining that the Twilight franchise has a devoted teen audience, and to go for an R rating on Breaking Dawn would be "a crime against our audience." Still he acknowledged that the final two films are "based on a much more mature book. We need to progress and be more sophisticated." The compromise is making the birth, which ends with Edward injecting venom into Bella's heart and turning her into a vampire, a far more subjective experience:
He also had a little to say about that first sex scene, explaining that even though Bella and Edward finally get between the sheets, it's not going to be all candlelight and sexy music. Again, we're talking PG-13 and for teenage girls:
You can read the rest of Godfrey's Q&A from the Breaking Dawn set over at USA Today, where he jokes about Condon's history as a director of musicals and explains exactly where the split between the two movies will happen. The first installment of Breaking Dawn hits theaters on November 18 this year, with the second coming nearly a year later on November 16, 2012. For everything else you could possibly want to know about the movie, check out the Breaking Dawn page in our Blend Film Database.
Your Daily Blend of Entertainment News
Staff Writer at CinemaBlend