Breaking Into The Inside Man Sequel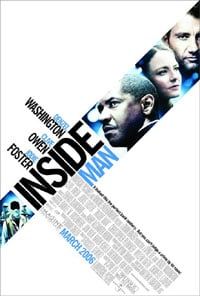 Dalton Russell was never caught and you know what that means. There must be a sequel to Inside Man. Two years ago Russell told the world: "I planned and set in motion events to execute the perfect bank robbery." And that he most certainly did. Now it looks as though Universal has finally finished planning and actually set into motion the long talked about sequel to Spike Lee's compelling box office hit, Inside Man. The second one is tentatively being called – surprise, surprise -Inside Man 2.
According to the HR, Spike Lee will be back to direct as will Brian Frazer to produce the film. Still in negations is the potential for Terry George to write the screenplay, replacing Russell Gewirtz who wrote the original. Since I'm a huge fan of Hotel Rwanda, I most certainly would have no problem seeing George get a hold of this project.
While the sequel's storyline will not align with the original it will continue to follow the characters of its predecessor. While we all loved the quarrel between bank robber Dalton Russell (Clive Owen) and hostage negotiator Keith Frazier (Denzel Washington), it won't be hard to part with the old plot, given Spike Lee's high aspirations for the new storyline. "I want the script to be even better than Russell's, and Russell wrote a really good script," he says. Lee looks to maintain the relationship between the main characters but within a new series of events. This may not be so difficult for him to achieve because, while attending the Toronto International Film Festival, Lee said both Washington and Owen have expressed interest in signing up for Inside Man 2.
Considering Inside Man got Spike the biggest opening weekend of his career, I can understand why Universal was eager to fund the project. The original grossed more than $29 million in its opening weekend and more than $88 million in total in the US. The box office better mind its money because Dalton Russell is coming around for seconds.
Your Daily Blend of Entertainment News
Staff Writer for CinemaBlend.