Bryan Singer's Future With The X-Men Franchise Possibly Revealed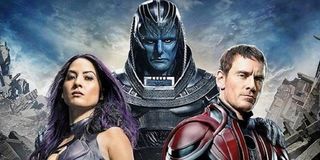 We're still more than six months away from finally seeing X-Men: Apocalypse, but that's not going to stop people from speculating about the future of the franchise. As profitable as the mutant-centric superhero saga has been, there are, of course, going to be more installments, but we've been wondering about mastermind Bryan Singer's involvement, whether or not he'll be back for more, but according to a new report, it sounds like he may very well be returning for more movies.
X-Men: Apocalypse recently returned to Montreal, where it filmed, to do some reshoots, and according to Journal De Montreal (via Heroic Hollywood), production will once again head to the Great White North in 2017 for filming on a seventh X-Men movie. Michel Trudel, of Mel's Studios, where Apocalypse filmed, and where the next movie will shoot as well, recently singed a deal with Fox, and told the website that part of the reason why they want to return to Montreal, in addition to convenient amenities for a film production, is that director Bryan Singer is a big fan of the city.
The report calls him the "director of the films," and this has led many to proclaim that Singer is in fact coming back to helm the as-yet untitled next X-Men movie. That feels like it might be jumping the gun a bit, however. His status has been somewhat up in the air, and he hasn't really ever given a definitive answer to questions of whether or not he'll direct more X-Men movies. If this report is in fact accurate, it does appear that he'll direct the new movie, but it isn't hard to imagine a scenario where he doesn't.
Singer has a lot of projects lined up, including a big 20,000 Leagues Under the Sea adaptation, and it's easy to envision a scenario where he's involved, but maybe not at the director. After all, he had a developing X-Men: First Class as a producer and working on the story, but left the directing duties to Matthew Vaughn.
I'm not saying that Bryan Singer isn't going to direct another X-Men movie, it's certainly very much within the realm of possibility, maybe even likely. All I'm saying is that this evidence, while compelling and interesting, is a bit too flimsy to be absolutely convincing—it's reading a lot into what feels like an offhand comment—and we'll have to wait and see just how things go before getting too excited.
We don't know anything about what a new story might look like, and won't for quite some time, but for now, we have six months to fill up waiting for X-Men: Apocalypse. Though the movie itself doesn't open until May 27, 2016, we will reportedly get a first look trailer attached to Star Wars: The Force Awakens when it opens on December 18.
Your Daily Blend of Entertainment News
Thank you for signing up to CinemaBlend. You will receive a verification email shortly.
There was a problem. Please refresh the page and try again.