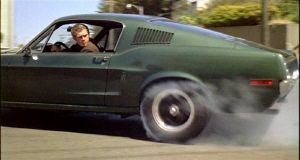 In Part 762 of Why, Oh Why Are They Remaking This, it looks like Brad Pitt will star in a remake of Steve McQueen's 1968 cop film Bullitt. McQueen played Detective Frank Bullitt who pursues the hit men that killed the mob witness he was protecting. The plot of the movie is typically secondary in people's minds to the nearly 10 minute long car chase through the streets of San Francisco. This is the car chase that started all the other car chases that we eventually got sick of seeing in action movies.
Pitt's involvement in the remake is according to a source for MonstersandCritics. The source says that the reason for the remake is that, "Brad shares a lot of the same passions as Steve McQueen - including a love of motorbikes and fast cars - so it was a dream role for him." So we are going to get this unnecessary remake because Brad likes to go vroom-vroom.
The good news is that Pitt's dance card is pretty full. In addition to a completed western about Jesse James and another movie about a man aging backwards, Pitt is slated to appear in a Coen Brothers film and three others through the end of 2008. Maybe between that, his busy personal life, and the paycheck that will come with the inevitable Ocean's 14, Steve McQueen and his green Mustang can rest in peace.
Your Daily Blend of Entertainment News