Cameron Diaz Remaking Mel Gibson's What Women Want?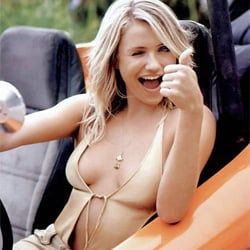 Early last week we told you about a new teen comedy being planned by New Line here which sounded a lot like a gender reversed version of the Mel Gibson rom-com What Women Want. Now let's take that notion one step further because Pajiba claims there really is a sequel to What Women Want in the works and it'll star Cameron Diaz.
According to their source Peter Chiarelli, who wrote The Proposal, is currently penning What Men Want, "a reimagining of What Women Want set in the workplace." They say Cameron Diaz is attached to play the lead, which would mean she's the new Mel Gibson. What Women Want starred Mel Gibson as a man who found that he could suddenly hear the thoughts of all the women around him. Hilarity and romance inevitably ensued as he began to understand the way women work.
So for the reboot, I suppose that means Cameron Diaz will now hear what men think. Here's a hint Cameron: Boobs. Boobs. Boobs. Boobs. Boobs. Boobs. Boobs. Except women don't really want to hear what men actually think and since any good rom-com must cater to women, it's a certainty that What men Want will present a whitewashed version of our thoughts. That's for the best. We don't want you to know what's in our heads any more than you want to know. It's pretty gross in there.
Your Daily Blend of Entertainment News