Can't Hardly Wait Alumni Round-Up: The Cast Then And Now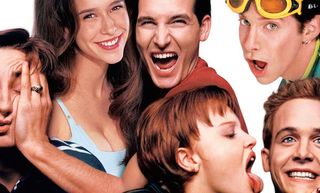 It was Barry Manilow's birthday, seventeen years ago, when a group of high school seniors spent their remaining hours as a class at a loud graduation party, where one guy vowed to tell the girl of his dreams how he really felt, a geeky underdog plotted revenge against the school jock, and everyone else showed up determined for a good time. The cast of the film was a bevy of young talent, many bound for stardom if they hadn't achieved some of it already.
Looking through the lengthy list of memorable and notable cast-members, we break down where they were then, and where they are now...
Jennifer Love Hewitt
AKA: Amanda Beckett
Senior Quote: "So, he's sort of tall... with hair, and he wears t-shirts, sometimes?"
Known for back then: Jennifer Love Hewitt got her start early credits that include Kids Incorporated. Can't Hardly Wait came along as she was starring in Party of Five. Later, she went on to play the lead in I Know What You Did Last Summer.
Now: Post-90s, Jennifer Love Hewitt continued to make a name for herself on both the big and small screen. In the last decade, that includes starring in Ghost Whisperer and The Client List, and most recently, playing the part of Kate Callahan in Criminal Minds.
Ethan Embry
AKA: Preston Meyers
Senior Quote: "Shut up about the dog, OK?"
Known for back then: Leading into his starring role in Can't Hardly Wait, Ethan Embry starred in Dutch, Empire Records, That Thing You Do! and played Rusty "Nick Papagiorgio from Yuma" Griswold in Vegas Vacation.
Now: These days, Ethan Embry's been all over the small screen, with roles in Once Upon a Time, CSI and Netflix's fantastic comedy Grace and Frankie. He's also set to play a role in Season 6 of The Walking Dead.
Charlie Korsmo
AKA: William Lichter
Senior Quote: "I can't feel my legs. I have no legs!"
Known for back then: He played the awesome kid in What About Bob?, Dick Tracy and Hook.
Now: Can't Hardly Wait was Charlie Korsmo's last credited role. He went on to earn degrees from MIT and Yale. In 2011, President Obama nominated him for membership of the Board of Trustees of the Barry Goldwater Scholarship and Excellence in Education Foundation. So it sounds like he's had as promising a future as his CHW character.
Lauren Ambrose
AKA: Denise Fleming
Senior Quote: "I kind of believe in fate. It just works in really fucked up ways sometimes."
Known for back then: Roles in In & Out, Party of Five and Law & Order are among the few credits Ambrose had before taking on the sarcastic and down-to-earth Denise Fleming in Can't Hardly Wait. She went on to make a name for herself as Claire Fisher in HBO's Six Feet Under (a TV destination for a few other CHW stars, in fact).
Now: Since Six Feet Under, Ambrose's starred in the short-lived The Return of Jezebel James, played the role of Jilly Kitzinger in Torchwood, and played Debbie in USA's Dig.
Peter Facinelli
AKA: Mike Dexter
Senior Quote: "I'll kick everyone's ass in this room!"
Known for back then: Peter Facinelli had a few roles under his belt before Can't Hardly Wait, including an appearance on Law & Order, but many of us likely associate him best in his early years with the jock-ish Mike Dexter in Can't Hardly Wait.
Now: Peter Facinelli's another actor who counts Six Feet Under among his post-CHW credits. More recently, he headed up the Cullen family in the Twilight movies, and played Dr. Fitch Cooper in Showtime's Nurse Jackie.
Jaime Pressly
AKA: Girlfriend #1
Senior Quote: "Ok, I don't think she's prettier than Gwyneth."
Known for back then: An episode of Silk Stalkings, a role in the TV show Push and the part of Violet in Poison Ivy: The New Seduction are among the handful of credits Jaime Pressly had under her belt going into Can't Hardly Wait.
Now: Since then, Pressly went on to bring (or broughten) it on in Not Another Teen Movie, and bring the Joy to My Name is Earl. She also starred in I Hate My Teenage Daughter, and more recently plays the recurring role of Jill in CBS's Mom.
Seth Green
AKA: Kenny Fisher (known to himself as Special K)
Senior Quote: "92%!"
Known for back then: Idle Hands, Stephen King's It and Can't Buy Me Love were among his pre-CHW roles, and that was just a slice of the beginning for Green...
Now: If being awesome is Seth Green's lifelong goal, he's clearly winning. From his early acting credits, to his appearance as the determined, goggle-wearing Kenny Fisher in Can't Hardly Wait, to his eventual creation of Robot Chicken. Let's not forget his portrayal of Oz in Buffy the Vampire Slayer, Chris in Family Guy and more recently, voicing the role of Leonardo in Teenage Mutant Ninja Turtles' third season.
Sean Patrick Thomas
AKA: Jock #2
Senior Quote: "Mike Dexter's a god!"
Known for back then: In addition to playing another one of Mike Dexter's jock friends, Sean Patrick Thomas' 90s credits include Cruel Intentions (and the sequel), Picture Perfect and Courage Under Fire.
Now: Among his recent credits, Thomas played the role of Solomon in the short-lived TV series Ringer, and had appearances in Reaper, Lie to Me and Army Wives. He's also reportedly expected to return to the Barbershop for its third installment.
Channon Roe
AKA: Jock #1
Senior Quote: "Mike Dexter's a role model!"
Known for back then: Channon Roe got his start in an episode of My So-Called Life, after which he appeared in The X-Files, NYPD Blue and Boogie Nights before he landed the role of Mike Dexter's jock pal in Can't Hardly Wait.
Now: After Can't Hardly Wait, Channon Roe stirred up trouble in one of the best episodes of Buffy the Vampire Slayer ever ("The Zeppo"). He went on to make a career out of TV roles, with Deadwood, 24, Windfall, Dirt, Head Case, Terriers, Castle and House among his credits. Most recently, he played Riley Maker in TNT's Murder in the First.
Clea DuVall
AKA: Jana
Senior Quote: "I'm allergic."
Known for back then: DuVall's pre-Can't Hardly Wait credits include playing invisible-Marcie in an episode of Buffy the Vampire Slayer and a couple of appearances in ER, among some other roles. But CHW was one of a few teen/young-adult-focused features DuVall landed in the late 90s. We also saw her in The Faculty, She's All That and Girl, Interrupted.
Now: DuVall shifted to TV with roles in Carnivale and Heroes. Much more recently, she was in the second season of American Horror Story, and she played Emma Borden in The Lizzie Borden Chronicles. On the feature side, DuVall played a role in the Oscar-winning film Argo.
Freddy Rodriguez
AKA: Jock #3
Senior Quote: "They have mirrors... above the bed, dude."
Known for back then: Can't Hardly Wait was among Freddy Rodriguez's first big credits. He went on to reunite with CHW stars in Party of Five, Scrubs and Six Feet Under.
Now: More recently, Rodriguez has appeared in Ugly Betty, Perception and NBC's The Night Shift.
Donald Faison
AKA: Drummer
Senior Quote: "If they get to wear the shirts, maybe I should wear the hat!"
Known for back then: Donald Faison began making a name for himself with memorable roles in Clueless, Waiting To Exhale, Sabrina, the Teenage Witch, Felicity, not to mention the enthusiast hat-wearing drummer in Can't Hardly Wait.
Now: For all of his credits, Faison's most iconic role may be that of Dr. Christopher Turk in Scrubs. Since then, we've seen him in Kick-Ass 2, Wish I Were Here and more recently, The Exes. He also loaned his voice to Robot Chicken on more than one occasion.
Chris Owen
AKA: Klepto Kid
Senior Quote: We put a quote here, but it's gone now.
Known for back then: Angus, The Faculty and Major Payne are among Chris Owen's pre-CHW roles, but in the era, we probably all know him best as The Shermanator in American Pie, which was one of the films he did not long after CHW, along with She's All That.
Now: Among his more recent, memorable credits, Chris Owen played the ill-fated Norm in The Mist. And it looks like he's slated to appear in Kenny Young's upcoming comedy The Night Before.
Jason Segel
AKA: Watermelon Guy
Senior Quote: (((Scooby Doo noise)))
Known for back then: Can't Hardly Wait was Jason Segel's first credited role, and let's face it, he was barely in the movie. The same year, he appeared in Dead Man on Campus, and then found his footing in 2000 with the career-launcher that was Freaks and Geeks.
Now: Who would've thought the watermelon guy would turn out to be among the most likely to succeed in this cast. To throw a few recent credits out there, This is 40, The Muppets, Sex Tape, Forgetting Sarah Marshall, and -- speaking of Marshall -- more than 200 episodes of How I Met Your Mother. Enough said.
Eric Balfour
AKA: Hippie Guy
Senior Quote: "I don't wanna waste this!"
Known for back then: Eric Balfour shares a Kids Incorporated credit with Can't Hardly Wait star Jennifer Love Hewitt, and a Buffy credit with a few of the CHW cast-members. He followed up Can't Hardly Wait with appearances in The West Wing and Chicago Hope, and a role in the Mel Gibson rom-com What Women Want. He went on to recur as the tech-savvy Milo Pressman in 24.
Now: These days, Eric Balfour's likely best known for playing Duke Crocker in Syfy's Haven. He also reunited with CHW's Breckin Meyer in an episode of Franklin and Bash. On the feature side, we saw him face mayhem in the thriller Skyline.
Selma Blair
AKA: Girl Mike Hits On #1
Senior Quote: "Really? What's that?" (She barely talks in this movie, sorry.)
Known for back then: Prior to Can't Hardly Wait, Selma Blair's credits included In & Out, Scream 2 and an episode of The Adventures of Pete & Pete. She was barely in CHW, as indicated by the lackluster senior quote above, but she found her place on the map when she played the virginal Cecile Caldwell in Cruel Intentions.
Now: Blair's more recent credits include Kath & Kim, appearances on Web Therapy, and the role of Kate Wales in FX's take on Anger Management. More recently, she's set to play Kris Jenner/Kardashian in the American Crime Story event series.
Sara Rue
AKA: Earth Girl
Senior Quote: "You. Are All. Sheep. Baaaah."
Known for back then: Sara Rue had racked up quite a list of TV credits before taking on the cranky, earthy role of Earth Girl in Can't Hardly Wait. That includes appearances in dueling medical dramas ER and Chicago Hope, as well as roles in Minor Adjustments, Phenom and Grand. Post-CHW, she took on the memorable role of Carmen Ferrara in Popular.
Now: Rue's recent credits include the part of Penny in Eastwick, and the part of Brenda in Rules of Engagement. These days you can see her as Dora in TV Land's Impastor.
Jerry O'Connell
AKA: Trip McNeely
Senior Quote: "I got warts all over my feet."
Known for back then: He was the comb-toting Vern in Stand By Me, the secret-identity-having Andrew Clements in My Secret Identity and the sliding Quinn Mallory in Sliders before Jerry O'Connell crashed the Can't Hardly Wait graduation party and dropped some reality at Mike Dexter's un-flip-flopped feet.
Now: In addition to theater work, O'Connell's recent credits include a handful of TV appearances, not to mention the voice role of Pip the Pirate Genie in Jake and the Never Land Pirates. He also dropped in on the Veronica Mars movie, playing the role of Sheriff Dan Lamb. Going back a bit further, he played the sleazy (and ridiculously ill-fated) Derrick Jones in Piranha 3D).
Tamala Jones
AKA: Girlfriend #1
Senior Quote: "Totally Gwyneth, but prettier!"
Known for back then: Before she was playing Girlfriend #2 in Can't Hardly Wait, Tamala Jones appeared in The Fresh Prince of Bel-Air, Jag and the Dangerous Minds TV show. She followed CHW with a recurring role in Veronica's Closet, and the part of D'wana in Next Friday.
Now: Lately, Tamala Jones can be found on ABC, playing the role of medical examiner Lanie Parish in ABC's Castle.
Breckin Meyer
AKA: Lead Singer
Senior Quote: "Anyone order a LoveBurger? Well done!"
Known for back then: Before he was the gothy lead singer of Loveburger, Breckin Meyer was building his resume with appearances in 90s movies including The Craft and Clueless. He followed CHW with Road Trip and an uncredited role in Josie and the Pussycats.
Now: In addition to credits that include Titan Maximum, King of the HIill and Robot Chicken, Breckin Meyer had a good run starring as the titular Jared Franklin in TNT's Franklin & Bash.
Jennifer Lyons
AKA: Girlfriend #2
Senior Quote: "He's not even Brad Pitt in 12 Monkeys when he had that weird eye, and he was all dirty..."
Known for back then: Before she was Girlfriend #2 in Can't Hardly Wait, Jennifer Lyons had appearances in Step By Step and Brotherly Love, not to mention playing the rarity that was an actual love interest for Bud Bundy in Married with Children.
Now: In recent years, Jennifer Lyons has appeared on General Hospital, Workaholics and The Starter Wife. You may have also spotted her witnessing Peter Parker adjust to his spidey abilities during the subway scene in The Amazing Spider-Man.
Melissa Joan Hart
AKA: Yearbook Girl
Senior Quote: "You don't throw away a yearbook! You're supposed to cherish it forever!"
Known for back then: Melissa Joan Hart was already likely well known to Can't Hardly Wait's targeted age demographic, having starred in the clever Nickelodeon series Clarissa Explains it All, and then Sabrina, the Teenage Witch, the latter of which was mid-series when Hart took on the pigtail-wearing yearbook-obsessed yearbook girl in CHW. After CHW, she starred in Drive Me Crazy.
Now: Melissa Joan Hart's appearances in film and TV thinned a bit after Sabrina, but she did lend her voice to Robot Chicken, and made a big TV comeback with a starring role in ABC Family's Melissa & Joey.
Jenna Elfman
AKA: The Angel
Senior Quote: "There is fate, but it only takes you so far, because once you're there, it's up to you to make it happen."
Known for back then: Jenna Elfman was on the brink of stardom when she strapped on her angel wings for Can't Hardly Wait, having appeared in Gross Pointe Blank and landing the lead in Dharma & Greg the year before CHW hit theaters. She followed the teen-comedy with EDtv, Keeping the Faith and Town & Country, while also continuing on with Dharma & Greg.
Now: In recent years, Elfman's taken on a number of small screen roles, including the under appreciated comedies 1600 Penn and Growing up Fisher. She also played the role of Naomi in FX's drama Damages.
Your Daily Blend of Entertainment News
Assistant Managing Editor
Kelly joined CinemaBlend as a freelance TV news writer in 2006 and went on to serve as the site's TV Editor before moving over to other roles on the site. At present, she's an Assistant Managing Editor who spends much of her time brainstorming and editing feature content on the site.