Jennifer Love Hewitt Gave Ethan Embry A Hilarious Gift Before Their Can't Hardly Wait Kiss Scene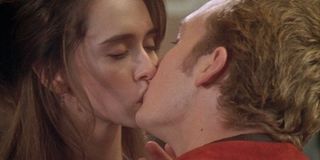 Jennifer Love Hewitt was kind of nervous before her impassioned kissing swansong with Ethan Embry at the end of Can't Hardly Wait. It wasn't because she was slightly concerned about making out with an actor she hardly knew in front of a hefty amount of cast and crew. Instead it was because Ethan Embry was a huge stoner and she didn't want to come away from the smooch with a Cheech and Chong flavored after taste.
Ethan Embry himself opened up about the extreme lengths that Jennifer Love Hewitt went to avoid this during the filming of this sequence while taking part in a Reddit Q&A. In fact, I'll leave it to Embry himself to fully divulge how the entire incident unfolded.
I can only imagine that Jennifer Love Hewitt was rather relieved to immediately learn that Embry's mouth was a minty haven rather than a debauched nest of marijuana. Let's relive the sequence from the 1998 romantic comedy again to see if we can notice JLH's relief.
But it turns out that Ethan Embry had his own issues going into the kiss too. The entire aura between himself and Jennifer Love Hewitt was riddled with tension because, as he explained in the same Reddit Q&A:
Despite this issue, I'm going to put it out there and guess that it was hardly the worst scenario for an actor to be in.
For the uninitiated, 1998's Can't Hardly Wait was one of a raft of high school, teenage comedies that hit cinemas at the end of the 1990s. Starring Jennifer Love Hewitt, Ethan Embry, Charlie Korsmo, Lauren Ambrose, Peter Facinelli, and Seth Green, it revolves around the debauched antics at a high-school graduation party. This includes the usual scenario of a kid trying to lose his virginity and a nerd being in love with a jock.
What makes Can't Hardly Wait linger a tad longer in the memory is that it also featured appearances from a number of young actors who would blossom into bona-fide TV and movie stars. This included Jason Segel, Jaime Pressly, Selma Blair, Donald Faison, Jenna Elfman, Jerry O'Connell, Melissa Joan Hart, Breckin Meyer. It's also just about funny enough, sweet, and a nice little precursor to the following year's American Pie. Just, you know, without a guy having sex with a freshly baked good.
Your Daily Blend of Entertainment News
Your Daily Blend of Entertainment News
Thank you for signing up to CinemaBlend. You will receive a verification email shortly.
There was a problem. Please refresh the page and try again.