Captain America 3 Will Change The Marvel Cinematic Universe In A Big Way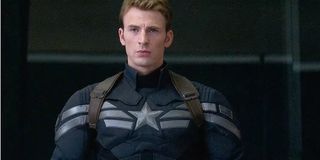 Where were you when S.H.I.E.L.D fell? If you're able to remember the answer to that question, then you know how much of an extreme impact Captain America: The Winter Soldier had not only on the Marvel Cinematic Universe, but also on its audience. You might think that things are now safe for Steve Rogers, however, Joe and Anthony Russo are teasing an even bigger game-changer for Captain America 3. Even more surprising is the fact that Kevin Feige has had the idea for the next film in his mind for almost a decade or so.
Crave Online recently spoke with Joe and Anthony Russo, who having been busy promoting Captain America: The Winter Soldier's home video release, and got all of the dirty details. With the early stages of Captain America 3 in play since February, the brothers took the time to tease some of the work they've been doing behind the scenes. And what sort of Marvel tease would be complete without some crucial Kevin Feige info being dropped? Said Joe Russo,
This is no surprise, considering how long Kevin Feige sat on the name of the actor cast as Thanos, as well as the fact that the Mad Titan was going to be in Guardians Of The Galaxy. Of course, that didn't stop him from teasing us about something big being on the horizon. It's this type of speculation that keeps the fans on the edge of their toes, and refreshing their favorite movie and comic news websites for the next story. Which starts to make us eager fans wonder, what could be so big that the entire Marvel Cinematic Universe may have been built around it?
The Marvel Cinematic Universe has been a presence in theaters since 2008,meaning there is about six years of existing big screen Marvel history that can be built upon in Captain America 3. When you think how much time has been put into planning everything out so far, and the fact that the movie is being touted as an event on level with the fall of S.H.I.E.L.D., that means that what we can expect probably won't be some kind of secondary storyline that Feige happens to be a fan of. Whatever those in charge have up their sleeves for Captain America 3 is huge, and at this point we're only left to speculate exactly what is going to happen. Is it possible that not all of The Avengers will make it to Avengers 3?
Captain America 3 will be in theaters on May 6th, 2016. Its official subtitle is only known to a specific few right now (Joe Russo wants to "announce the titlesoon"), but there is one big idea we have regarding what that subtitle will be. Continue onto page 2 for a bit of comic geek speculation...
What do you guys think of Captain America: The Death Of The Dream?
Looking back at the 2008 – 2014 time frame, it would make sense that Kevin Feige would be sitting on this well-known story for some sort of massive Phase Three shift. Considering the pattern that each phase has used thus far, the Captain America film is the one that usually sets up the seismic shift for the next Avengers film to follow. Cap's adventures directly influence The Avengers, and seeing as it's been bandied about that Captain America: The Winter Soldier is a "two part story", you could probably make good money wagering that part two will feature the death of Steve Rogers, Bucky's redemption through his inheritance of the Captain America mantle, and possibly disbanding of The Avengers before The Avengers 3.
So how exactly does this happen? Crossbones (Cap's would-be assassin) and the infiltration of S.H.I.E.L.D has already been set up in the Marvel Cinematic Universe, and there remains the possibility for the return of Red Skull, who was transported by the Tesseract to god knows where at the end of Captain America: The First Avenger. All of this fits into the overall arc known as The Death Of Captain America, and make for an awesome, story spanning "final" installment in the Captain America series. Further supporting this idea are quotes from Chris Evans, who has said in the past that he is interested in retiring from acting at the end of his Marvel Contract, and that fact may open the door for putting a permanent end to Steve Rogers on the big screen.
More recently, Chris Evans has made recent rounds telling people that he perhaps isn't done suiting up for Marvel yet, but that doesn't kill the possibility of Captain America dying in Captain America 3. In fact, it could mean that the following chain of events happens: Steve Rogers dies at the hands of Red Skull in Cap 3, and then Bucky becomes the new Captain for The Avengers 3 and so on until the eventual Captain America: Reborn film that brings back Steve Rogers.
Chris Evans gets some time off to make a couple more experimental films/recharge the batteries, Sebastian Stan works off some of that nine picture deal he secured, and we, the fans, get some awesome emotional fireworks! Of course, this could all be a ruse and the Marvel Cinematic Universe could be leading up to a big Civil War plot line... but that's another article entirely!
Senior Movies Contributor
CinemaBlend's James Bond (expert). Also versed in Large Scale Aggressors, time travel, and Guillermo del Toro. He fights for The User.
Your Daily Blend of Entertainment News
Thank you for signing up to CinemaBlend. You will receive a verification email shortly.
There was a problem. Please refresh the page and try again.