Captain Planet And The Planeteers Movie Is In Development At Sony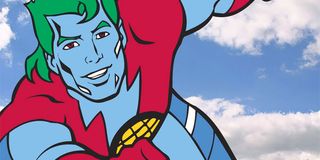 By Sony's powers combined, the Captain Planet movie appears to be closer to becoming a reality. We've actually known for a couple of years that there was a chance the cartoon superhero and his five environmentally-conscious teen "Planeteers" would be headed toward the big screen at some point in the future, courtesy of a man who knows a thing or two about adapting a beloved cartoon to a feature film, Transformers producer Don Murphy. Today comes word that Sony Pictures is in final negotiations to acquire the rights to the adaptation, which - according to THR - would be produced by Murphy, along with Mark Gordon and Susan Montford.
Captain Planet and the Planeteers aired for more than a hundred episodes from 1990 through 1996, and centered on a group of teens from different parts of the world, and each of whom was given a magic ring from Gaia, the spirit of the Earth. Each ring gave the teen a specific power, four of which had to do with control over elements of the earth (earth, fire, wind, water), while the fifth was Heart. They used these powers to protect the earth from destruction and environmental threats. And when a problem got too big for them to handle, they combined their powers to summon Captain Planet. The barely veiled message seemed to promote environmental friendliness to its young and impressionable audience in a way that also offered entertainment and a story kids wanted to watch, taking it beyond the basic and less subtle Give a Hoot message those of us who grew up in the 80s received.
As THR points out, a movie based on the series was in the works in the 90s, but it never got past the script stage. Now it looks like it's back in the running for a feature film, and in this day and age of remakes, reboots and adaptations, the odds of it getting to the big screen seem strong. THR doesn't specify whether the plan is for a live-action or an animated film, but looking at Transformers, we might expect a live-action take on the story.
Captain Planet may not have been airing new episodes anytime in the last decade or so, but in this age of nostalgia and the internet, out of sight doesn't mean out of mine. The character was brought back for a live-action follow-up story a couple years ago for a Funny Or Die video starring none other than Don Cheadle:
Don Cheadle is Captain Planet from Don Cheadle
Amidst playing a Colonel in the Iron Man sequels, Cheadle went back to the Captain role for Funny or Die in two more videos:
Captain Planet 2 from Don Cheadle