Carey Mulligan And Helena Bonham Carter Revolt In Suffragette First Look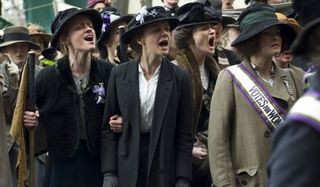 English ingénue Carey Mulligan broke onto the international stage in 2009 with her Academy Award-nominated turn in An Education. Since then, she's shown a passion for tackling daring dramas, from the sci-fi-infused love triangle tale Never Let Me Go to Steve McQueen's nymphomaniac character study Shame, and Nicolas Winding Refn's ultra-violent romance Drive. Now she's giving voice to the early feminist movement with her upcoming drama Suffragette.
Collider shares the first still from Suffragette, which shows Carey Mulligan in turn-of-the-century attire, raring for a fight at a "Votes for Women" rally. At her side appears to be Romola Garai, and tucked under that dreadful big hat hides Helena Bonham Carter.
Screenwriter Abi Morgan, who has previously adapted history into female-fronted dramas with The Iron Lady and The Invisible Woman, found her inspiration for Suffragette, not in the genteel upper class ladies most often associated with the movement, but with the working class women who believe peaceful protests would get them nowhere. Suffragette centers on the blue-collared women of Britain who fought ferociously to win their right to vote as the 19th century turned over to the 20th.
Carey Mulligan fronts Suffragette as Maud, a foot soldier in this battle for the right to vote. She is one of many women who will risk it all--their home, their families, their job, their safety--to confront a corrupt political system that rejects their input and as well as their demand for representation. These radical revolutionaries will turn to violence as needed.
We first reported on Suffragette earlier this year, when the history-inspired drama landed some serious star power in the form of 18-time Academy Award nominee (and three-time Academy Award-winner) Meryl Streep. Joining a cast that also boasted Carey Mulligan, Helena Bonham-Carter, Romola Garai, Anne-Marie Duff, Geoff Bell, Natalie Press, Ben Whishaw and Brendan Gleeson, Streep signed on to play Emmeline Pankhurst, who is regarded as the leader of the British suffragette movement and has come to be seen as one of the most influential people of the 20th century. With accomplishments like that, who could possibly play her but Streep?
Suffragette earned more headlines in March when it became the first film ever allowed to shoot with the hallowed walls of London's Houses of Parliament. This was a big moment, not just for the film, but also for its director Sarah Gavron, a British filmmaker acclaimed for the drama Brick Lane, and now forever a part of the U.K.'s film history.
Production has since wrapped on Suffragette, and the film slated to open in the United Kingdom on January 16th, 2015. But it's suspected that this star-studded drama that could easily speak to today's political climate could make its world premiere at one of the illustrious film festivals coming up this fall. Perhaps the Toronto International Film Festival or the New York Film Festival? We'll keep you posted.
Your Daily Blend of Entertainment News
Staff writer at CinemaBlend.