Carol: See The New Commercial That Was Banned For Female Nudity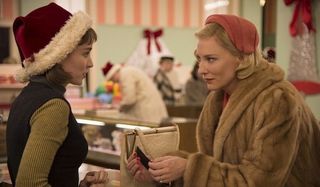 Todd Haynes' period tale of a forbidden, at-the-time socially unacceptable relationship between two women, Carol, is a lot of things. It's meticulous constructed, visually sumptuous, and achingly romantic. There is eroticism, sensuality, and nudity, but overall it's in keeping the tone and themes of the film. Nominated for six Oscars, Carol is receiving a nice push and the box office, but ABC is refusing to air a new TV spot for the drama because it shows a bit of skin. Take a look at the rejected ad and judge for yourself.
The scene in question shows stars Rooney Mara and Cate Blanchett, who are both up for Academy Awards next month for their performances, in bed together. Yes, they are naked, though there's nothing more to see than you get in your average beer commercial, and everything is strategically covered. However, according to Page Six, ABC will not air the spot until The Weinstein Company "provides more coverage" on the two actresses.
Sources at TWC tell the outlet that they are in the process of making the changes requested by the network. I wonder if they'll simply recut the footage or if they'll use digital wizardry to cover up Mara and Blanchett. Maybe it will wind up looking like when Showgirls airs on cable and they put an animated top on Elizabeth Berkley. They probably won't do that, but it sure would be funny.
Carol is one of the most acclaimed movies of 2015, and in addition to nominated for Best Actress and Best Supporting Actress for Cate Blanchett and Rooney Mara, respectively, it also earned Oscar noms for Best Cinematography, Best Costume Design, Best Original Score, and Best Adapted Screenplay.
Based on Patricia Highsmith's novel The Price of Salt, Carol tells the story of a young shopgirl and aspiring photographer, Therese (Mara), in 1950s New York. When she encounters the glamorous older Carol (Blanchett) in her store one day, the two embark on an intimate relationship that challenges everything Therese knows and throws their lives into upheaval.
The list of awards Carol won and top ten lists it appeared on is practically endless, and those accolades started right out of the gate. When it debuted at the Cannes Film Festival in France last year it was met with a standing ovation, and in the time since it's met with near universal acclaim.
Now that you've had a chance to check out the questionable Carol TV spot, do you agree with ABC's decision? Do they have a point, is this too racy to air on the Disney-owned network? Or do you think they're overreacting? Do you think there are other factors in play? Sound off in the comments below.
Your Daily Blend of Entertainment News