Casey Affleck Reteams With David Lowery For Sci-Fi Feature To Be Two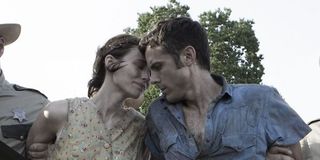 David Lowery has spent more than a decade helming little-known shorts and features, but he broke through this year with his star-studded drama Ain't Them Bodies Saints that boasts Rooney Mara, Ben Foster, and Casey Affleck in its leads. It seems it was an experience both Lowery and Affleck are ready to replicate as THR reports the pair are re-teaming for a science-fiction tale about the perils of cloning.
Lowery has closed a deal to write and direct an adaptation called To Be Two, inspired but a short story "To Be Two or Not to Be" from Paul Broks' anthology Into the Silent Land: Travels in Neuropsychology. Affleck is set to star, and will also produce alongside Jim Wilson, and Sailor Bear's Toby Halbrooks and James M. Johnston, who both co-produced Ain't Them Bodies Saints. The film is being described as "a thinking man's sci-fi tale" that's tone will be similar to Rian Johnson's Looper. Notably, the two films share a similar theme of doubles causing chaos. THR describes "To Be Two or Not to Be" like so:
While Lowery and Affleck are clearly gung-ho to work together again, it's unknown how soon To Be Two will be able to go into production. For one thing, Lowery has the script to write. But with Ain't Them Bodies Saints having drawn him major attention at its Sundance debut last January, the writer-director has been courting much bigger deals. Last March, Lowery was hired to help Disney reinvent their 1977 mashup of live-action and animation Pete's Dragon. He will pen its script with his writing partner Toby Halbrooks. Then in April Lowery signed on to adapt and direct a 2003 New Yorker article about Forrest Tucker, a career bank robber. Called The Old Man and the Gun, the Robert Redford vehicle is expected to show what happened when Tucker broke out of his retirement community at age 78 and gave bank robbing one last go. For Affleck's part, he has just wrapped on Scott Cooper's Crazy Heart follow-up Out of the Furnace, and is currently in production on Christopher Nolan's mysterious Dark Knight Rises' follow-up Interstellar.
So basically as promising as To Be Two might be, it could well be two or more years before we'll hear more news on it. But in the meantime, you can check out Ain't Them Bodies Saints, which is now in theaters.
Your Daily Blend of Entertainment News
Staff writer at CinemaBlend.