Catching Fire's Johanna Mason Could Also Be Jena Malone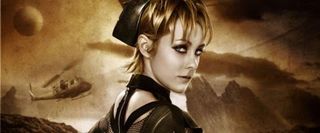 Late last week, after what seemed like months of Finnick casting rumors, we finally got a few hints about who might be on board to play Johanna Mason in Catching Fire, the upcoming sequel to the smash hit The Hunger Games. Finnick and Johanna are both crucial characters introduced in the second book, and as both are described as young and attractive former contestants in the Games, they're clearly among the ones fans want to see most. Now we can add a new potential Johanna to the list: Jena Malone.
According to Entertainment Weekly, Malone is "in the running" for the part, and also that the previously rumored Mia Wasikowska is no longer up for it, not having been approached and being unavailable for the film anyway. Malone, on the other hand, appears to have an open schedule, except for an adaptation of the Ibsen play A Doll's House that she plans to shoot with Ben Kingsley. The Catching Fire shoot would obviously be much, much bigger, and a pretty good opportunity for Malone to boot-- Johanna is a mercurial, fascinating character, a fan favorite who could give her a dynamic character to play in front of what might be her biggest audience yet.
Of course, it's hard not to have noticed Malone at some point in the past-- she had striking roles in the likes of Into the Wild, The Messenger, Pride & Prejudice, Saved! (my personal favorite) and Donnie Darko before aiming for her first blockbuster with the woefully misguided Sucker Punch. Catching Fire would be much more of a sure thing, and the more I think about it, the more I think Malone seems right for Johanna. What do you guys think>
Staff Writer at CinemaBlend
Your Daily Blend of Entertainment News
Thank you for signing up to CinemaBlend. You will receive a verification email shortly.
There was a problem. Please refresh the page and try again.