Chadwick Boseman's Blunt Response To The Gods Of Egypt Casting Controversy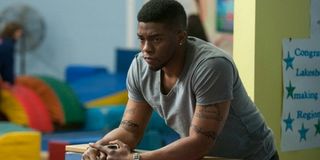 It's been a pretty good year for Chadwick Boseman. Sure, he hasn't actually had a movie out during 2015 but despite his absence he has been reaping the benefits of his revelatory work by playing Black Panther and Thoth in Captain America: Civil War and Gods Of Egypt, respectively. And just to prove that he's now officially made it as a leading African-American actor in Hollywood the latter has found itself embroiled in some casting controversy over ethnicity.
Upon the release of the trailer for Gods Of Egypt there was an immediate outcry because, well, no-one looked like they were actually from Egypt. Instead, they looked Danish, Scottish, and Australian, because that's exactly where it's leading actors Nikolaj Coster-Waldau, Gerard Butler, and Breton Thwaites are all from. American Chadwick Boseman is also set to appear in the film too, and he admitted to GQ that when he originally took a look at the script he was aware that this issue may arise.
While there's not too much that Lionsgate and Summit Entertainment can do about Gods Of Egypt's diversity problem, especially now that they've already splashed $140 million on its production ahead of its February 26, 2016 release date, it will be interesting to see exactly how Hollywood react. After all, this isn't the first white-wash scandal to hit Hollywood in recent days.
Having been heavily criticized for its decision to cast Rooney Mara as Tiger Lily back in 2014, seeing as the character is Native American and The Social Network star very much isn't, Pan never managed to recover from the criticism. In fact it ultimately went on to return just $124.9 million at the box office from a $150 million budget meaning that it was a bona-fide flop. The same white-washing criticism was also labelled at Aloha, which also fared poorly at the box office, despite hyping the co-operation and the casting of Hawaiian locals. Overall, there's a chance that Gods Of Egypt could face the same sort of financial failure as well, now that a steady stream of criticism has been building.
However, rather than trying to come up with some feeble excuses for why their characters don't even remotely look or sound Egyptian, members of the film's cast and crew have turned into the controversy, and addressed it head on. Most notably, director Alex Proyas has since come out and apologized for the lack of diverse actors in the cast. Hearing Chadwick Boseman say something is just the icing on the cake, as his remarks serve as a compliment to those of his Gods Of Egypt director. If you watch the trailer again below, you'll be able to see what why everyone's in such a fuss when it comes to this film.
Only time will tell if Hollywood does actually recognize the error of it ways though, as a string of films are more likely to change the minds of those in charge, rather than just one film. Meanwhile the Gods Of Egypt will be with us on February 26, 2016.
Your Daily Blend of Entertainment News
Your Daily Blend of Entertainment News
Thank you for signing up to CinemaBlend. You will receive a verification email shortly.
There was a problem. Please refresh the page and try again.