Channing Tatum's Part In The Coen Brothers' Hail Caesar Is Ridiculous And Weird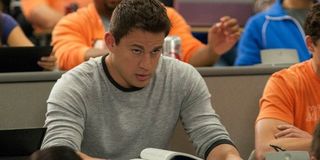 Every cinema freak in the world is eagerly anticipating the next Coen Brothers effort, Hail Caesar. Unfortunately for us, information regarding the siblings' latest tale is still at a premium, except for the fact that we vaguely know what the comedy is about and that it has a stellar cast. In fact, one of the actors popping up in the flick, Dolph Lundgren (Yep, that Dolph Lundgren), has provided us with a few extra tidbits. He basically explained that Channing Tatum's character is deliciously outlandish, and in the Coens' hands that's something we should all look forward too.
Dolph Lundgren made his remarks to Creative Screenwriting, and after being asked about his involvement with Hail Caesar, the muscle-bound actor gave us our biggest revelation yet about Channing Tatum's involvement in 1950s set comedy, which revolves around the Hollywood studio system. He said:
Sounds perfect. The Coens delightful canon of work is littered with outlandish and perfectly cast parts that help illuminate the surreal world where their films are set. From M. Emmet Walsh's Visser in Blood Simple to John Goodman's Gale Snoats in Raising Arizona, and you can't forget Miller's Crossing's Bernie Bernbaum (John Turturro), Barton Fink's W.P. Mayhew (John Mahoney), Big Lebowski's Walter Sobchak (Goodman again), and literally dozens of others.
On the face of it, Channing Tatum as a Soviet-loving American actor in the heat of the Blacklist as overseen by the Coen Brothers is the stuff of movie dreams. While I'm still insistent that everything that the Coens touch deserves to be fawned over and adored simply because it comes from the pair, let's hope that Hail Caeser is more like their dark comedies Raising Arizona, Oh Brother, Where Art Thou? and the ghastly underrated Intolerable Cruelty than The Ladykillers and Burn After Reading. While both of those are better than that the usual Hollywood comedic ouput, they're more garish and over-the-top than genuinely funny.
What else did Dolph Lundgren have to say about Hail Caesar? Well, unsurprisingly, he was a tad shocked when he was originally asked to appear in a Coen Brothers film, and he revealed that his character is a Russian submarine commander. Lundgren admitted that he believes that Coens asked him to feature as a stunt casting, so that when audiences see him they'll scream, "Holy shit!"
Lundgren will feature alongside Josh Brolin, Tilda Swinton, Ralph Fiennes, Jonah Hill, Frances McDormand, Christopher Lambert, Scarlett Johansson, and Alex Karprovsky in Hail Caeser, which revolves around a day in the life of Eddie Mannix (Brolin), a fixer in Hollywood who has a great many problems to deal with. It's due out on February 5, 2016, and everyone should be incredibly excited.
Your Daily Blend of Entertainment News