Scarlett Johansson Offered Lead In Creature From The Black Lagoon Remake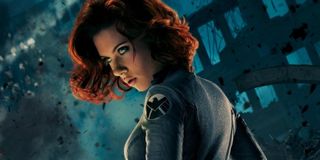 Scarlet Johansson might go from The Avengers to The Avengers of monster movies. After playing Black Widow in three movies (and a fourth and fifth on the way) in the Marvel universe, the actress is now being eyed for one of Universal's remakes of a classic monster: The Creature From The Black Lagoon. Can you imagine one of the most badass action stars as a scream queen?
According to a report on Tracking Board, ScarJo is Universal's top choice for the leading role in the remake. The 1954 original from filmmaker Jack Arnold is considered a horror movie classic and saw a group of scientists on an expedition through the Amazon who discover a human-fish hybrid. Julie Adams played the leading female role of Kay Lawrence, and her portrayal helped define the scream queen genre.
Just because Universal reportedly wants Johansson to be involved, doesn't mean she'll sign up. In addition to being a first-time mom, she also has to fulfill her Marvel obligations. Most of the actors in the MCU are contracted for approximately five-to-six films, and Johansson has only appeared so far in Iron Man 2, The Avengers and Captain America: The Winter Soldier. She still has Avengers: Age of Ultron this coming May and the big Civil War event next year, as well as all the press tours that surround those movies. She also has leading roles in the Ghost in the Shell movie adaptation, The Jungle Book and the Coen brothers' new movie Hail, Caesar! on the docket. To say she would sign up for another major franchise might be jumping the gun.
Further working against her are the reports that Universal wants to set up their own shared cinematic universe of monsters. It was said to have started with Luke Evans in Dracula Untold and will now branch off into other films. Though the studio said The Wolfman is not on the current slate, there is a reboot of The Mummy in the works. If this is the case, then Universal could very well want Johansson to appear in more than one film, which is no easy-to-make decision. Although, the original Creature From the Black Lagoon was not a part of any shared universe, so perhaps the same will be said of the remake.
Two sequels where made from the original and a remake has been in the works for a while. Originally, Arnold was supposed to return to the helm, but that iteration was eventually scrapped. According to Tracking Board, the current version sees Jeff Blitz, Gary Ross, Tedi Sarafian and Paul Schering penning the script, while Ross, Robin Bissell, Marc Abraham and Eric Newman will produce.
Your Daily Blend of Entertainment News