The Charlie's Angels Reboot Just Took A Huge Step Forward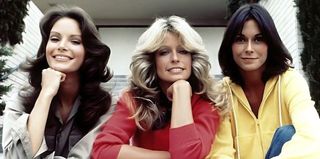 It may be a reboot of a remake, but that hasn't slowed down the momentum on the upcoming Charlie's Angels any. Though there aren't any stars currently attached to the project, there is a director on board to usher it into theaters, Elizabeth Banks, and the film has taken another big step forward, hiring a writer to deliver the script.
According to The Hollywood Reporter, Evan Spiliotopoulos will handle the writing duties on Charlie's Angels. No stranger to big action flics, Spiliotopoulos most recently penned the script for the Dwayne "The Rock" Johnson-fronted Hercules in 2014.
Though his resume is full of direct to video sequels for beloved Disney projects—The Jungle Book 2, The Lion King 1 1/2, Tarzan 2, Cinderella 3, and many more—he's got a number of higher profile gigs on the way to the screen. He worked on The Huntsman Winter's War, with Chris Hemsworth, Jessica Chastain, Emily Blunt, and Charlize Theron; the live-action Beauty and the Beast with Emma Watson, Ewan McGregor, Dan Stevens, and more; and has been linked to Wanted 2, among other things.
Charlie's Angels follows three female detectives who, dissatisfied with the jobs they're given in the police department, join the Townsend Agency, run by the mysterious Charlie, and work cases for him, though they never meet him in person. The show ran for 110 episodes from 1976 through 1981 and starred Farah Fawcett, Kate Jackson, and Jaclyn Smith. In 2000, McG brought the property to the big screen starring Drew Barrymore, Cameron Diaz, and Lucy Liu as the eponymous Angels. The tongue-in-cheek action-comedy hybrid was followed by Charlie's Angels: Full Throttle in 2003.
From what we know, the new version will harken back to the original series more than the movies. In the show, the three women graduated from the police academy but were given menial tasks because they were women—meter maid, crossing guard, and the like—which is why they took their talents elsewhere. The films got away from that backstory, but Elizabeth Banks has said that she feels like that's an issue "that's still very real in the world right now," and she wants to explore it in the movie.
Most known as an actress in the likes of The Hunger Games, Wet Hot American Summer, and Love & Mercy, among many others, Banks made her directorial debut earlier this year with Pitch Perfect 2 (she'll also direct Pitch Perfect 3), which was a big hit, earning more than $287 million worldwide.
We don't know a ton about Charlie's Angels right now, as it's currently in the development stages, but with Banks and the helm and Evan Spiliotopoulos handling the script, the pieces are starting to fall into place.
Your Daily Blend of Entertainment News