Pitch Perfect 3 Is Definitely Happening With At Least One Familiar Face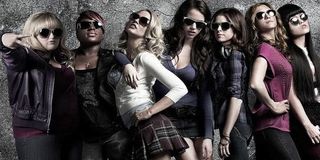 We know all of you aca-thusiasts out there have been looking forward to Pitch Perfect 3. The surprise hit franchise is definitely coming back with a third installment, and we now know that a familiar face will be there to usher further tales of the Barden Bellas back to the big screen, as Elizabeth Banks will reportedly once again take the director's chair.
According to Variety's sources, the 41-year-old actress, who made her feature directorial debut earlier this year with Pitch Perfect 2, will once again take the helm to tell the story of Becca, Fat Amy, and the rest of the Bellas.
Banks taking the reins once again isn't a huge shocker. She appeared in both of the previous films, and in addition to helming the last one, she also served as a producer on each of the earlier installments. If the franchise belongs to anyone, at least creatively, it is really Banks. She has been rumored to be the one Universal wanted for the job, but with her new career path, she's also been fielding other offers. In addition to Pitch Perfect 3, she's also currently linked to Red Queen and yet another reboot of Charlie's Angels, though both of those are still working through the development process.
Along with Elizabeth Banks, there will also be some familiar faces in front of the camera as well. Anna Kendrick, Rebel Wilson, and Brittany Snow have all signed on to reprise their roles at the pitch-matching a capella group.
Right now there is no word on what the plot of Pitch Perfect 3 entails, though now that most of the core cast is out of college, they will have to figure out a way for them to continue their singing shenanigans out in the real world. Or perhaps they'll serve in an advisory capacity to a new generation of Barden Bellas—they did introduce a new wave in PP2 with Hailee Steinfeld's character, so that's one possibility. Whatever direction they go, Kay Canon, who penned the previous two scripts will also return for part 3.
Made for relatively cheap—Pitch Perfect cost $12 million to produce, while Pitch Perfect 2 cost $29 million—these films have become a global phenomenon, and a very profitable one at that, earning $115 million and $285 million, respectively, worldwide. Even though the likes of Anna Kendrick and Rebel Wilson have become increasingly popular since, another chapter will still likely be rather inexpensive, in Hollywood terms anyway, and make a tidy sum, so it's easy to see why the studio wants another.
And they want it in short order, too, as Pitch Perfect 3 is already penciled in for an August 4, 2017 release date.
Your Daily Blend of Entertainment News
Thank you for signing up to CinemaBlend. You will receive a verification email shortly.
There was a problem. Please refresh the page and try again.