Charlie Sheen Making 9/11 Conspiracy Movie?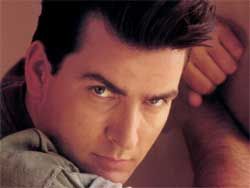 Alright, so Oliver Stone's World Trade Center came and went without offending anyone or pissing on the victims of 9/11. We dodged a bullet there folks. Care to try it again?
Get ready, we might have to. Our friends over at Filmstalker have dug up a story from the NY Post which says yet another World Trade Center movie may be on the way.
This movie is about another last men out of the WTC, William Rodriguez. Rodriguez's story starts out heroically. A janitor at the Trade Center, on the day of the attack he was the only man with a master key to all the doors in the building. So, in a bit of bravery he led Firefighters up the stairs of the North Tower unlocking doors for them as he went. He made it to floor 39 before he evacuated, and in the process saved hundreds of lives. He made it out of the buildling just before it collapsed, but was buried under rubble for an hour before being rescued.
That's the good part. The bad part is that after it was all over he launched a lawsuit against the government accusing President Bush of planning the attacks himself.
So, who do you go to when you're a 9/11 hero full of conspiracy theories against the government? Charlie Sheen of course. Rodriguez is reportedly talking to Sheen and Esai Morales about funding a project to bring his story to theaters. He says that Charlie's on board, and told him he'd "be honored" to turn his story into a movie. Writer David Marconi is reportedly already part of the project.
Marconi insists that the movie will focus on Rodirguez's 9/11 heroism, but I find that a little hard to believe. Sheen has gained some notoriety as a 9/11 conspiracy theorist in the past, and if you're not going to explore his story from that angle, then why bother to go to him over some other Hollywood actor?
If you thought audiences weren't ready to see faithful re-enactments of the events of the day, just wait until they have to react to a 9/11 film filled with accusatory conspiracy theories. Wait, we already had that didn't we? It was called Fahrenheit 9/11 and it outgrossed United 93 and World Trade Center combined. If he does it, Charlie Sheen just might end up getting very very rich.
Your Daily Blend of Entertainment News