Charlize Theron In Talks For John Madden's Murder Mystery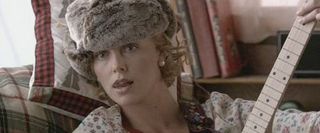 Hot off the success of his winsome comedy The Best Exotic Marigold Hotel, which has already earned more than $113 million worldwide, director John Madden has been set to helm Endgame Entertainment's Murder Mystery. Penned by Zodiac scribe James Vanderbilt, the film is said to be "an affectionate deconstruction of an Agatha Christie-style thriller," aiming to blend comedy, action and mystery conventions into a winsome adventure following an American couple abroad who witness a murder while honeymooning abroad, and then becomes entangled in its aftermath.
THR reports Charlize Theron, who is currently in box office stunners Prometheus and Snow White and the Huntsman, has entered into negations to join the project as its female lead. Though only in talks, it seems certain Theron will sign on, as she's already lined up to co-produce the picture. And this is great news for comedy fans as the Oscar-winner who made us all marvel at her Monster transformation proved just as adept and fearless last year in the blistering funny—though woefully underseen—comedy Young Adult. Of course, prior to that Theron dazzled as MRF Rita on the cult sitcom Arrested Development, but it was as the overgrown mean girl Mavis Gary that she cemented her reputation as a badass comedienne.
With Theron gearing up to play a different brand of badass in Mad Max: Fury Road, Murder Mystery is not expected to roll into production until early 2013. Nonetheless, between Madden's talent for crafting charming comedies, Vanderbilt's skill for building tension, and Theron's brave embrace of even the riskiest jokes, this is one feature that should prove well worth the wait.
Staff writer at CinemaBlend.
Your Daily Blend of Entertainment News
Thank you for signing up to CinemaBlend. You will receive a verification email shortly.
There was a problem. Please refresh the page and try again.