Chevy Chase Wanted For Vacation Reboot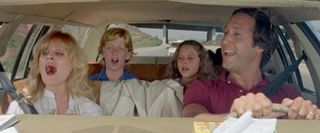 The word "reboot" is one that often urges movie fans to gnash their teeth, cry out about Hollywood's lack of originality, and curse the cash-grabbing bastards surely responsible for making such a thing occur. So, when word hit that New Line was looking to reboot National Lampoon's comedy classic Vacation franchise, the response was predictably negative, even though they'd signed rising comedy writers John Francis Daley and Jonathan Goldstein, who penned the cheered summer comedy Horrible Bosses, to polish the script and helm the project. Perhaps to allay the fears of those fans who have insisted that no one could dare play Clark Griswold besides Chevy Chase, Daley revealed to THR that he agrees. Moreover, he wants Chase and Beverly D'Angelo to reprise their roles as the parents who can't get a break during their holiday family getaways.
In truth, the unnamed reboot doesn't actually sound like a reboot at all as it's intended to center on Rusty Griswold, son of Clark and Ellen, all grown up and experiencing vacation-related mayhem all his own. This sounds like a smart innovation story-wise, as it will allow Daley and Goldstein to bring some new characters into the Griswold fold without ostracizing their best-loved members or fans. Of course, as five different actors have played Rusty over the course of the Griswold's adventures, the writers-turning-directors aren't bound in their casting options for their lead. However, Daley admits,
Now, I would assume that Chase and D'Angelo would have sort of glorified cameos in this Vacation, but personally I think it could be fun to see the pair as knowing grandparents smirking as Rusty fumbles to make the perfect vacation they long tried to attain. Or perhaps the years won't have mellowed the pair at all. Either way, their involvement not only speaks to Daley and Goldstein's commitment to making their Vacation a movie in the vein of the original franchise, but also their respect for those comedies. Plus it's not like they're unaware the stakes are high:
I totally agree, and look forward to seeing what's in store in the second generation of family shenanigans. Hopefully Chase and D'Angelo will be game to revisit the Griswolds.
Your Daily Blend of Entertainment News
Staff writer at CinemaBlend.