Children Of NWA Rappers May Portray Their Fathers In Upcoming Biopic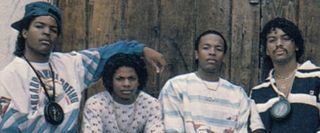 We've seen a lot of rappers take their chances at acting over the years, starting as far back as Marky Mark Wahlberg, whose rapping career now pales in comparison to what he's done on screen. Other rappers-turned-actors include Mos Def, Common, Ludacris... the list goes on and on. We've gotten rap "origin" stories from Eminem and Curtis "50 Cent" Jackson, who have each played versions of themselves on the big screen to tell their story, but theirs' is part of a whole that was birthed by one rap group and one rap group alone--NWA.
If you aren't familiar with NWA, let me give you a brief summary. Containing members such as Dr. Dre, Ice Cube, and Easy E, NWA gave birth to gangster rap, giving rap music a harder edge from their south central LA hometown of Compton. The group grew as did their problems, and internal turmoil caused them to break up, which created a whirlwind of violent politics and lyrical insults the likes of which we just don't see anymore.
Many of NWA's members found solo careers, and Ice Cube even found success as an actor. Now there's talk of a movie chronicling the ups and downs of NWA's troubled life cycle, and the film may even star the rappers' children playing the roles of their fathers. TMZ caught up with Dre outside an LA restaurant while he was signing some autographs for a fan and asked about the film. He didn't confirm that it would be their children playing the roles, but he said that they were talking about it and they'd see what happened.
Dre, Cube, and Easy E all have children and who better to play the parts than people who already look like their parents? The as-yet-untitled NWA film is a long way out, but when it finds the screen rest assured it'll give you a whole new perspective on rap music and where it came from. These guys changed everything. Here's the video of Dre giving the brief details.
Your Daily Blend of Entertainment News
Your Daily Blend of Entertainment News
Thank you for signing up to CinemaBlend. You will receive a verification email shortly.
There was a problem. Please refresh the page and try again.