Chris Hemsworth Trades Thor For Cyber-Terrorism In Thrilling Blackhat Trailer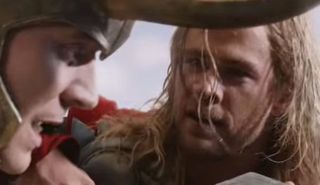 There's plenty to be excited about when it comes to the upcoming hacking-action-thriller, Blackhat. Not only does it give Thor himself, Chris Hemsworth, another opportunity to prove that he is more than just a man in a cape carrying a hammer. It also sees the long-awaited return of Michael Mann to the director's chair after a six-year absence. If that hasn't got you all heated up for their adventure, then its trailer should do the job. You can feast your eyes upon it above.
Excited? Thought so. Chris Hemsworth looks to have been perfectly cast as the mysterious, brooding Nicholas Hathaway, who is a convicted hacker/genius coder serving fifteen years in prison after he was caught infiltrating protected data. But deep-down inside, you just know that he has a heart of gold. Hathaway's expertise is called upon after a highly sophisticated computer hacker bewilders both American and Chinese military forces and brings down four of the world's largest financial markets. With the world at threat, and struggling to even get close to the cyber-villain, government officials make a deal with Hathaway that grants him full immunity if he brings the man down.
We still haven't really got a clean look at the man Hathaway is after, though. In fact, all we can really tell is that he can only grow a really patchy beard. However, his menace is eerily reminiscent of Heath Ledger's Joker in Christopher Nolan's seminal 2008 masterpiece, The Dark Knight. Of course, the actor portraying him doesn't seem to possess the raw terror and intoxicating threat of the Australian's portrayal, but several lines in the trailer allude to the fact that he isn't interested in money, isn't political and is basically just out to prove to the world that he can cause an immense amount of damage, which appears to involve blowing up a nuclear power-station.
Blackhat looks set to possess a James Bond-style zip and pace that will see the cast darting from Chicago to China to Honk Kong to Malaysia in order to land their foe. Its impressive ensemble cast, which includes Viola Davis, Manny Montana, Archie Kao and William Mapother, will surely allow the film to maintain its composure as it moves to these locations. Especially as they are being directed by Mann, who has always been able to eek out the very best performances from any cast he has ever worked with.
But the real reasons to be excited about Blackhat come in the shapes of Chris Hemsworth and Michael Mann. Hemsworth's turn in Rush, as Formula One daredevil James Hunt, proved that there are more strings to his bow than simply playing Thor, while Mann's insanely impressive back catalogue of films -- which includes Public Enemies, Collateral, Ali, Heat, The Last Of The Mohicans, Manhunter and Thief -- is all the evidence you need of his talent. The two of them working together will benefit both parties, as Mann will surely bring the best out of Hemsworth, and Hemsworth will hopefully entice Mann to a new, younger audience.
Let's just hope the end product is as good as the trailer. We'll find out when Blackhat is released on January 16, 2015.
Your Daily Blend of Entertainment News