Chris Pratt Rocks The Smolder In A New Jurassic World Still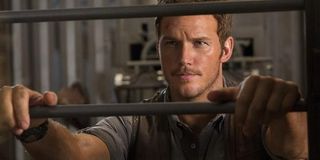 Guardians Of The Galaxy is finally here! If you haven't already seen it, you're probably planning on seeing it this weekend, because let's face it: Chris Pratt and company are box office gold! Of course, let's not forget that Pratt won't be away from us for too long as he'll be returning to screens worldwide in next summer's Jurassic World. While we don't have a teaser trailer for the film just yet, it looks like Universal's marketing department has given director Colin Trevorrow the order to turn his key and deploy the most powerful weapon known to humanity: the smolder.
The photo arrived, as most of the other images coming out of the Jurassic World camp, through the director's Twitter feed. Even Trevorrow knows what side the public's bread is buttered on at the moment, as he included the following message along with the photo:
Seriously, look at that image. There aren't even any dinosaurs in the damned thing! No peril, no blood, none of the stuff that we've been getting from Jurassic World as of yet, just Chris Pratt behind a set of bars. The man has this look on his face that either says, "I know exactly how I'm getting out of here, I'm just waiting for the pieces to fall into place" or, "I feel your pain, dinosaur friend. I'll get you out of there somehow." Either way, whatever he's selling, it's working because of that smolder.
Jurassic World seems poised to be the film that permanently cements the notion that Chris Pratt is as funny and kick-assed as he is charming. And you know what? It's totally going to work, as he's paid his dues playing comedic relief and dramatic bad ass parts over the past couple of years, all the while working his way into our hearts and minds. Summer 2015 is the moment when the world gives Chris Pratt his golden key to the executive washroom that is the A-list.
Of course, there are some of you out there that are thinking to themselves, "Where are the damned dinosaurs? Jurassic World is a film about dinosaurs, not the guy from The LEGO Movie's abs!" That's a fair complaint, dear reader, as I too am interested to see just what sorts of prehistoric beasties are waiting in the darkness. However, we're a little under a year out from the film's release date, so obviously we're not going to be getting too much dino action at this point. I hate to say it, but if you're looking for dinosaurs, you're probably not going to get them from Jurassic World anytime soon.
In the meantime, you can get your fix of Prattliness with Guardians Of The Galaxy this weekend. Jurassic World, on the other hand, will be released on June 12, 2015. We have it on good authority that there will be dinosaurs on this dinosaur tour, so prepare accordingly.
CinemaBlend's James Bond (expert). Also versed in Large Scale Aggressors, time travel, and Guillermo del Toro. He fights for The User.
Your Daily Blend of Entertainment News
Thank you for signing up to CinemaBlend. You will receive a verification email shortly.
There was a problem. Please refresh the page and try again.