Christian Bale And David O. Russell May Reunite On American Bullshit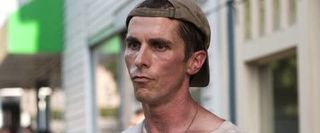 After his little boxing movie The Fighter blew up into an Oscar-winning phenomenon, David O. Russell spent a long time figuring out what his next movie would be before finally settling on The Silver Linings Playbook, with Bradley Cooper, Juennifer Lawrence and Julia Stiles among others in the starring roles. With that film wrapped up and Mark Wahlberg's sequel to The Fighter finally moving on without Russell, the director is now planning another move, and may circle back to another one of his Fighter stars. According to Deadline Russell is now attached to direct American Bullshit, set up at Sony and with Christian Bale potentially attached.
But hang on-- that's all depending on who you ask. In a statement to Deadline Russell admitted he is considering the project, and "I have great respect for Chuck Roven [the producer] and Christian Bale," but "I am also developing other projects and have not chosen my next film." What those other projects will be is unclear, since a lot of the projects Russell considered after The Fighter-- Uncharted, Angelina Jolie's Maleficent-- have moved on without him. In the meantime, we can speculate a little about American Bullshit, which Deadline describes as "a fact-based drama with global implications"-- so, really, that could mean just about anything.
With his stint as Batman complete, Bale pretty much has the world at his feet, and a reunion with the director who helped guide him to his first Oscar can't be anything but a good move. Even if we don't know anything about American Bullshit right now, or if Russell will ever make it, it seems worth looking forward to.
Your Daily Blend of Entertainment News
Staff Writer at CinemaBlend