Christian Bale Reveals The Origin Of His Batman Voice And How His Wife Found It Dumb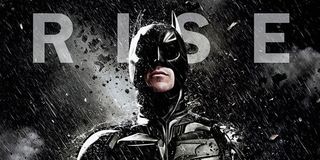 Now that Christian Bale no longer has to don the Dark Knight's cowl and cape, he's downright chatty about all things Batman! While he's technically doing the press rounds for writer-director Scott Cooper's Crazy Heart follow-up, Out of the Furnace, Bale's been winning headlines by dishing on how his Batman came to be and what his thoughts are on Ben Affleck and BatKid taking up the caped crusader's mantle.
Sitting down with MTV, Bale not only restated his pleasure in seeing the character get passed on, but also revealed the inspiration for the Batman voice that has become a signature part of his performance. He admitted the growling voice was something he took with him into the audition, where he famously had to wear Val Kilmer's old batsuit. Bale explains:
The audition he mentions above is now available as part of the The Dark Knight Trilogy: Ultimate Collector's Edition, and Bale is not terribly happy about it. "I hate it when they do that," he explains, "because when you audition for it, (you don't think of the possibility of the video getting out). They get you at your most vulnerable moment, the bastards." In case you missed it, here's a clip of his audition for Batman Begins.
Ultimately, Bale's BatVoice™ is part of what helped win him the coveted role. But he says when he got home from the audition, he was far from certain he landed it. He recalls:
You can watch the full Batman-centric interview clip here:
Your Daily Blend of Entertainment News
Staff writer at CinemaBlend.