Christian Bale In Talks To Be The New Travis McGee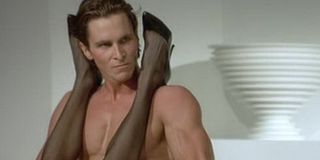 It looks like just as Christian Bale had retired Batman, he's come looking for a new franchise to call his own. And he's enlisting the help of a fellow Oscar favorite to help him along the way. Are you ready for Christian Bale as sly P.I. Travis McGee?
Christian Bale is in talks to star in Travis McGee, according to The Hollywood Reporter. McGee is not actually a P.I. or licensed detective, but rather a "salvage consultant" who repossesses stolen property for a fee. THR also describes him as a "bachelor" so this could be a return to the hunky ladies' man Bale of American Hustle - but without the prodigious beer gut and combover. Previously, the role interested Leonardo DiCaprio, who will stay onto the project as a producer. This particular script is based on the book The Deep Blue Good-bye, the first of twenty one novels featuring McGee. While it is early in the negotiations, reportedly Bale's interest stems from the presence of James Mangold as director, having previously worked with the filmmaker on 3:10 To Yuma.
McGee previously surfaced in a couple of adaptations. Rod Taylor was Travis McGee in the cult film Darker Than Amber. That film is the only theatrically-released McGee film thus far, directed by Robert Clouse (Enter The Dragon) and featuring the final performance of Jane Russell. Later, McGee returned in the guise of mustached Sam Elliot in the TV-movie Travis McGee, though that film, adapting the McGee novel The Empty Copper Sea, apparently diverged heavily from the source material. The internet must have been outraged back in 1983!
Bale is unquestionably a leading man attraction with a certain amount of bankability, as outside of The Dark Knight he's scored hits as diverse as American Hustle and The Fighter... even Terminator Salvation grossed $371 million worldwide. But it's merely smart planning when an actor has a series of films that he can retreat to, refueling the audience's awareness of his personal "brand." The question is, how confident is Bale that the upcoming Exodus: Gods and Kings will or won't be a success? Sometimes, you can guess how good a movie might be based on what an actor's career decisions might be, and Bale leaning towards a new franchise suggests some rocky confidence.
Of course, it might just be a lot simpler than that. Bale's got a desk, and its possible this script landed on it. Bale had some free time for when this could shoot (either before or after Mangold films the upcoming Wolverine sequel slated for 2017). His next appearances are allegedly in the next Terrence Malick movies, and who knows when they'll surface and how much Bale is in them. Why not hook up with Leo and old buddy James Mangold to play a swingin' "salvage consultant" who woos ladies and lives on a boat?
Your Daily Blend of Entertainment News
Thank you for signing up to CinemaBlend. You will receive a verification email shortly.
There was a problem. Please refresh the page and try again.