Christoph Waltz Playing The Villain In Water For Elephants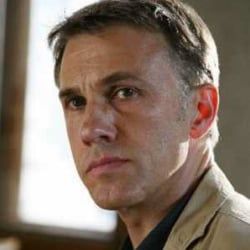 For a while Christoph Waltz was the kind of actor who had to worry about where the next role was coming from. Now with an Oscar nomination and the Tarantino stamp of approval, Waltz is moving into the next career phase: worrying about being typecast. The man who personified charming villainy as Hans Landa in Inglourious Basterds has already been cast as the bad guy in Michel Gondry's Green Hornet, and now according to Deadline Hollywood he'll be terrorizing Reese WItherspoon, Robert Pattinson and circus animals in Water for Elephants.
The movie adaptation of Sara Gruen's bestseller is in the works at Fox 2000, and apparently Sean Penn had been in line for the villain role at one point. Waltz and Witherspoon play a married circus couple, he a mean-spirited animal trainer and she the star performer. In comes Robert Pattinson to mess things up, as he usually does, as veterinary student who joins the traveling show. This will help Waltz move very quickly into the next phase of a Hollywood acting career: getting shown up by one of those Twilight kids.
Staff Writer at CinemaBlend