Is Christopher Nolan's Interstellar About Climate Change?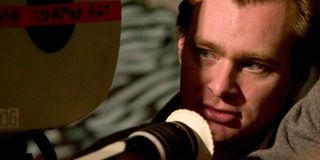 With the massive hits that were his Dark Knight trilogy under his belt, Christopher Nolan has the kind of box office drawing power that means he can play by his own rules. Unfortunately for us, his rules include revealing to the press as few details about his Dark Knight Rises follow-up as possible. Sure, we know Interstellar boasts a cast that includes Casey Affleck, Jessica Chastain, Anne Hathaway, Michael Caine, and Matthew McConaughey, many of whom play scientists who explore worm holes in space/time. But beyond that, we've been left little clues about what Nolan has planned for Interstellar. But with the sci-fi mystery now in production, Nolan's secrets are beginning to spill.
The Macleod Gazette, the local newspaper of Fort Macleod, Alberta, has stumbled across some tantalizing details about Interstellar as Nolan and company shoot on location in the Canadian town. For one thing, this paper has discovered the film is shooting under the code name Flora's Letters, which is far more innocuous sounding and in line with code names Nolan used for The Dark Knight ("Rory's First Kiss") and The Dark Knight Rises ("Magnus Rex.")
More intriguingly, the Gazette follows the rundown of the premise we know—scientists who travel to a different dimension—but add these explorers' motivation. Reportedly, this future-set film centers on the tremendous destruction climate change has wrought on agriculture. As a result, these time/space-tripping scientists are said to be seeking out a place where crops can be grown. This is the first we've heard anything about Interstellar involving climate change, but gives some insight into the scene setup the reporter goes on to detail.
On Tuesday August 27th, locals spotted Interstellar crew members pouring sand all over Fort Macleod's Main Street, setting the stage for the following day's shoot. On Wednesday, McConaughey and John Lithgow were spotted driving a pick-up truck down the street in a manufactured dust storm, which within the film is likely the result of climate change. Remarkably, passersby were allowed to frequent the still-open businesses in between takes, which involved crew members manning fans to blow dust that created billowing dust clouds above the area that could be seen at a distance.
It's worth noting that the Gazette doesn't provide a source for their plot details. And considering Paramount Pictures has refused to comment on recent rumors that Matt Damon has been added to the production after its start date, I can't imagine they'll rush to confirm any of the above. Funny enough, when Damon's potential involvement was announced, Katey joked Nolan might be building an Elysium/Interstellar crossover. While that will not be true on a literal level, the two would both be science fiction features with a political message if these reports prove accurate. In the meantime, we'll continue to scour for any information Nolan and his crew drop—intentionally or otherwise.
This poll is no longer available.
Interstellar is set to hit theaters on November 7th, 2014.
Your Daily Blend of Entertainment News
Staff writer at CinemaBlend.