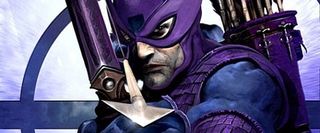 We've heard rumors of big cameos happening in Thor, but until now we've never been able to confirm them. Tonight though, Cinema Blend's own Katey Rich saw footage from Thor at Cinema Con and we can confirm that at least one other superhero character is in, and we've seen him. Paramount showed us actual footage of Hawkeye in action as part of their Thor presentation.
Jeremy Renner is playing Hawkeye in Avengers but now we know that the first place you'll see the character is in Thor this summer. The scene we saw featured Renner as Hawkeye, working with the infamous Agent Coulson, played as he was in the Iron Man movies, by Clark Gregg. The scene features Hawkeye using his famous bow and arrow and he has multiple lines, so while we're talking about something a little more than a momentary cameo, there's no way to know if his involvement will go any further than that one scene.
For now at least we know he's in the movie. Expect Hawkeye to show up in Thor when you buy your ticket on May 5th. Check back with Cinema Blend later tonight, for even more in-depth Marvel movie details straight from Cinema Con.
Your Daily Blend of Entertainment News