Clear Pic Of Ledger As Joker - UPDATED!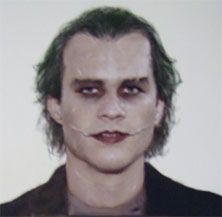 Last week the first fuzzy pictures of Heath Ledger as the Joker in The Dark Knight leaked out onto the web. But really, it was impossible to see anything in them. They looked like someone smeared Vaseline on their camera lens before taking them.
Luckily, the guys over at AICN have scored the first clear picture of Ledger in full Joker costume. They're pretty sure the picture is real, and it does fit with some of the scooper descriptions of his getup we've seen from other sites. I'm not sure how I feel about the drowned rat look, but a toned down (and possibly boring) version of the character is probably what we all should have expected from Christopher Nolan. I wonder if he'll even laugh? Ah well.
I've posted a small version of the image to the right, but make sure you click over to AICN here to see a full size version in which Ledger appears to be holding a rubik's cube.
UPDATE! As everyone except the site that originally posted the pics suspected, the Ledger as Joker pics have turned out to be fake. A fanboy with too much time on his hands and a bedroom in his parents' basement has taken responsibility for them over at Sueprherohype, and admitted to making the whole thing up. Thank AICN for helping him get his jollies.
Your Daily Blend of Entertainment News
Thank you for signing up to CinemaBlend. You will receive a verification email shortly.
There was a problem. Please refresh the page and try again.