New Clips And Stills From The Hurt Locker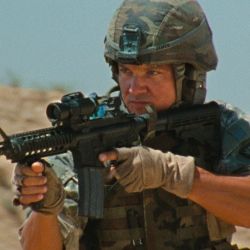 Though it debuted at a film festival and will be following a very slow, small-scale release pattern, The Hurt Locker is as thrilling and entertaining as any giant blockbuster this summer. Kathryn Bigelow's war movie follows three bomb experts in Iraq as they count down the days until the end of their tour of duty. Jeremy Renner, as the biggest hothead but also the most talented in the bunch, is phenomenal in his role, and he and Anthony Mackie play marvelously off each other as initial rivals who eventually learn they have no choice but to work together.
Hopefully you've already seen the film's trailer, but if you want more of an idea of what the movie's all about, check out two newly released clips from the film below, sent to us by Summit. We've also got some new images added to our complete photo gallery, including the first image of Ralph Fiennes as a British soldier gone undercover. Click on either of the images below to see the full collection. The Hurt Locker comes out in New York and L.A. on June 26 (yes, opposite Transformers 2), and will be rolling out nationwide from there.
Staff Writer at CinemaBlend
Your Daily Blend of Entertainment News
Thank you for signing up to CinemaBlend. You will receive a verification email shortly.
There was a problem. Please refresh the page and try again.