Clooney And De Niro For Forster Cop Movie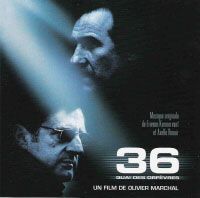 George Clooney may soon be in a Marc Forster remake of a French cop movie with Robert De Niro. Sounds too cool to be true doesn't it?
But Production Weekly insists it's a possibility. George is supposed to be close to making a deal to do it. The 2004 French movie which they're translating is called 36 Quai des Orfevres, which translated to "36 Quays of the Orfevres". Ok, that wasn't as enlightening as I'd hoped. The Marc Forster version will simply be called 36.
The French movie starred Gerard Depardieu and some other French dudes in the story of plain clothes cops competing for promotion by attempting to solve a series of violent robberies committed by a gang. Picture for a moment Clooney and De Niro shlubbing around the streets of New York in trench coats.
Even if De Niro and Clooney solving crime together doesn't do it for you, the presence of Marc Forster ought to be enough to earn your attention. Everything he does is gold. Stranger than Fiction was one of the year's most interesting diversions. Stay was the most unfairly overlooked film of 2005. And then there was the greatness of Finding Neverland in 2004. Forster delivers a new work of genius every year. This year it'll be The Kit Runner, and in 2008 it'll be 36.
Your Daily Blend of Entertainment News
Thank you for signing up to CinemaBlend. You will receive a verification email shortly.
There was a problem. Please refresh the page and try again.