Coen Brothers Collection Gets Blu-Ray Release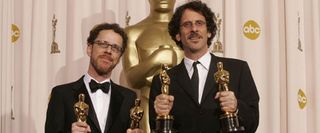 The Coen brothers have been making critically acclaimed films since the eighties, and it is high time a collection of their works was available on Blu-Ray. Apparently this opinion holds weight, because Twentieth Century Fox has prepared The Coen Brothers Collection for Blu-Ray on August 30. It seems smarter to call this the early collection, since the four titles included in the set are Blood Simple, Raising Arizona, Miller's Crossing, and Fargo.
You would think at this point the Coen brothers have amassed enough beloved titles to warrant a lengthier set, but the bigger problem is that a lot of their late nineties and early 2000s films, like Oh Brother, Where Art Thou?, have not yet hit Blu-Ray. With The Big Lebowski being revised for a Blu-Ray release, it's looking like there could be a second Coen brothers set to look forward to in the future.
At least we can hope. Until then, we'll have to content ourselves with this set, which have some interesting extras and will likely occupy us for a little while. Check out what you'll get with The Coen Brothers Collection, below.
Blood Simple: Director's Cut
• Commentary with Kenneth Loring of Forever Young Films
• Cast and crew biographies
• Production notes
• Theatrical trailer
Raising Arizona
• Theatrical trailer
• TV spots
Miller's Crossing
• "Shooting Miller's Crossing" a featurette with Barry Sonnenfeld
• Interview bits with Gabriel Byrne, Marcia Gay Harden, and John Turturro
• Stills gallery
• Theatrical trailers
Fargo
• Commentary with Roger Deakins
• "Minnesota Nice" featurette
• Trivia track
• Trailer
• Stills gallery
• Article on the film from American Cinematographer
Your Daily Blend of Entertainment News