Cold Case's Kathryn Morris Married Brad Pitt In Moneyball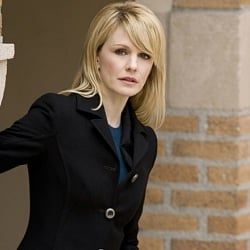 It was odd enough when an actress as high-profile as Robin Wright was cast to play Brad Pitt's ex-wife in Moneyball, because how on earth would an ex-wife fit into a story about a baseball team and economics? But now Mr. Pitt will have two women to deal with-- according to THR, Cold Case actress Kathryn Morris has signed on to play the second wife of Pitt's character Billy Beane. Is it getting awkward in here for anyone else?
Based on Michael Lewis's nonfiction book that documented that success of the Oakland A's when they applied economics to hiring new players, Moneyball is going into production next week after a long, torturous process of being cancelled, rehiring directors, and recasting one of the lead roles with Jonah Hill instead of Demetri Martin. Rounding out the cast will be Phillip Seymour Hoffman, who last worked with director Bennett Miller on Capote, along with Wright and Stephen Bishop.
Staff Writer at CinemaBlend
Your Daily Blend of Entertainment News
Thank you for signing up to CinemaBlend. You will receive a verification email shortly.
There was a problem. Please refresh the page and try again.