Colin Farrell Could Star In Arthur & Lancelot Comedy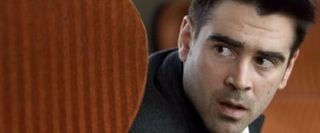 Even though he won the Golden Globe for Best Actor in a Comedy for his role in In Bruges, Colin Farrell is still the guy you think of for heavy, dramatic roles, thanks to famous turns in the likes of Minority Report, The New World, or even the upcoming Total Recall remake. But a lot of us think Farrell is even better at being funny than he is at being serious, and maybe the right comedy role would be what it takes to make him the huge, huge star he's deserved to be for years. And would you believe it-- Farrell seems to agree with us.
After halting the project last December, Warner Bros. is reviving their attempt to make a Sherlock Holmes-style comedy based on the legend of King Arthur-- and they want Colin Farrell to lead it. According to THR Farrell is currently in talks with the studio to play Lancelot in the film, though it's unclear if intended director David Dobkin is still on board, or who would play opposite him as Arthur. Up-and-comers Kit Harrington and Joel Kinnaman had been on board to play the leads in the previous incarnation, but the studio rightly worried they didn't have the star power to lead it and pulled the plug.
Farrell, on the other hand, seems just the right level of star to carry something like this, especially if Total Recall winds up doing well this summer. And it's fun to imagine who might step in to star opposite him as Arthur, hopefully developing the kind of effortless rapport that Jude Law and Robert Downey Jr. used to make the Sherlock Holmes films such a hit. Can you think of other actors you want to see going on adventures with Farrell? And do you think he has the comedy chops to pull it off? Let us know in the comments as we wait to see if this casting pans out.
Staff Writer at CinemaBlend
Your Daily Blend of Entertainment News
Thank you for signing up to CinemaBlend. You will receive a verification email shortly.
There was a problem. Please refresh the page and try again.