Comic Con: Guillermo Del Toro Will Be Rebooting The Haunted Mansion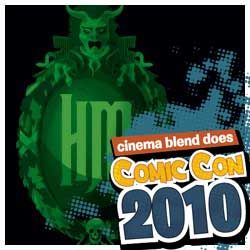 UPDATE: A Disney press release sent this afternoon says that del Toro will "write and produce" the new film, with no mention of directing. They definitely were giving the impression that del Toro would be fully in charge, so maybe they're still in the process of working out a deal for directing? We'll look for more information as the Con goes on.
As a surprise at the end of the Tron: Legacy panel Disney had a big announcement to make: they're rebooting The Haunted Mansion, and Guillermo del Toro is going to be directing it. I know, I was surprised too. Not just that, but del Toro himself took the stage to talk about his plans for the reboot, promising that the movie will be "truly scary" and if you take the children to see the movie, "they will scream." The film will be live action and in 3D (ugh, of course), and they showed off the first logo for the film, which you see above, and the first image of "The Hatbox Ghost," which del Toro says they're hoping to make the linchpin of the film.
Del Toro talked about his length about his memories of visiting the original Disneyland attraction as a child, and emphasized that he wants to be truer to it than Disney's earlier attempt to cash in: "We're being true to the original art and aesthetic or the original Imagineers who created the mansion. We are not returning Eddie Murphy's calls." He continued, "To me the mansion has to become the haunted house movie that a generation remembers and loves after being created by us."
What's brilliant about this is that, especially with the earlier bit with Jack Sparrow, everyone was expecting Tim Burton to be brought out as the Haunted Mansion director. Picking del Toro instead didn't just defy the Hall H expectations, but also gives the movie a fair chance of being worth watching. Del Toro knows from the scary and the fantastical, and if he promises that this movie will actually be scary, I'm inclined to believe him.
Below is a shot of del Toro and their art for "The Hatbox Ghost," who will apparently be a key element of the new Haunted Mansion. Close-up of hte Ghost included; start your speculation and your criticism now.
For more complete Comic Con coverage go here.
Staff Writer at CinemaBlend
Your Daily Blend of Entertainment News
Thank you for signing up to CinemaBlend. You will receive a verification email shortly.
There was a problem. Please refresh the page and try again.