Comic Con: Scott Mosier Ditches Kevin Smith To Make His Own Action Movie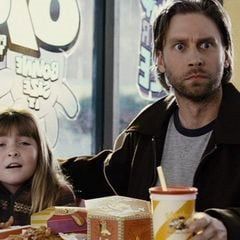 If you've been following the career of indie director Kevin Smith, then you know that you can no longer call him an indie director. He's recently started work on his first studio project, a buddy copy movie called A Couple of Dick starring Bruce Willis and Tracy Morgan. Kevin is off trying new things and he's left behind his old familiars like longtime producer Scott Mosier while he tests his wings.
That's left Mosier, who produced all of Smith's previous movies, free to do his own thing as well. Today during Kevin's Comic Con panel Kevin Smith announced that Mosier's writing his first movie. If you're thinking Clerks III, forget it. Smith says it's an action movie and "nothing like a Kevin Smith movie". Kevin, who of course has the inside track, says it's like The Bourne Identity but better. Actually I thought that movie had already been made, it's called The Bourne Supremacy.
The project is described by Kevin as as being an ambitious action film, which puts it as far away from Smith & Mosier's past work together, mostly talky character studies, as humanly possible. So if Mosier ends up directing does that mean they'll switch roles and Kev will take on producing? Probably not. Kevin says he doesn't think he's the right man for the job.
Want more from Comic Con? This is just the tip of the lightsaber. Get it all right here.
Your Daily Blend of Entertainment News