The Conjuring Spin-Off 'Annabelle' Finds Its Two Leads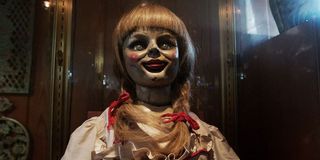 Remember that creepy doll called Annabelle whose tale of terror served as the introduction into the weird world of paranormal investigators Ed and Lorraine Warren in the summer hit The Conjuring? Of course you do! Well, this chilling child's toy is getting a horror movie all her own, and New Line is proud to announce the two actors she'll terrorize.
The Wrap has revealed Annabelle Wallis and Ward Horton will be leading the low-budget spin-off of The Conjuring, which is slated to be called simply, Annabelle. With The Conjuring's director James Wan having moved on to bigger, brawnier projects like Fast & Furious 7, he will instead serve as executive producer here. Stepping up to the director's chair will be his Conjuring cinematographer John R. Leonetti, whose previous directorial credits include Mortal Kombat: Annihilation and The Butterfly Effect 2.
Wallis is an English actress who had small roles in X-Men: First Class and Snow White and the Huntsman. She is probably best known, however, for her turn as Jane Seymour in the Showtime historical drama The Tudors or as Grace Burgess on the English drama series Peaky Blinders, which focuses on the gangsters of 1920s Birmingham. Here's a brief clip of her in action:
For his part, Horton is a New Jersey native who has worked predominantly in television over the past ten years with one-off roles and a recurring part on One Life To Live. He can currently be seen in a small supporting role as a broker in Martin Scorsese's The Wolf of Wall Street. Below you can watch his acting reel from 2011:
So what kind of trouble are these two attractive blondes going to get up to? That is at present a complete mystery. Sure, the Annabelle doll is based on an actual case the Warren's covered, but it's unclear how much that story will serve as an inspiration here. Also unknown is how this movie might relate to The Conjuring's established Annabelle mythos nor how it'll connect to the already announced Conjuring sequel. Could Patrick Wilson and Vera Farmiga come back as the Warrens? Or is this to be a story that predates the duo's involvement with the doll? All this is currently unknown. But with production set to kick off this spring, we suspect more details will surface shortly.
In the meantime, this short video will recap the actual Annabelle tale:
Your Daily Blend of Entertainment News
Staff writer at CinemaBlend.