The Hateful Eight Trailer Is Equally Chilling And Delightful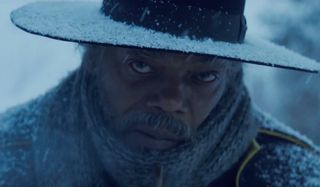 We've been talking about Quentin Tarantino's The Hateful Eight for what seems like forever, but now the first trailer has rolled into town to offer our best look yet at this bloody Western. And it looks pretty spectacular. Watch the footage below.
The Weinstein Co. released the official Hateful Eight trailer online, and "one of these things is not like the other" in the frozen tundra of old Wyoming. The film brings together eight strangers: a bounty hunter named John Ruth (Kurt Russell); a fugitive named Daisy Domergue (Jennifer Jason Leigh); a black former Union soldier Major Marquis Warren (Samuel L. Jackson); a Southern renegade sheriff named Chris Mannix (Walton Goggins); the temporary caretaker of a haberdashery, Bob (Demian Bichir); hangman of the town of Red Rock, Oswaldo Mobray (TIm Roth); cow-puncher Joe Gage (Michael Madsen); and Confederate General Sanford Smithers (Bruce Dern). All take refuge at Minnie's Haberdashery, and they slowly realize that their mysterious connection might prevent them from getting home safe. As Ruth says in the trailer, "One of them fellas is not what he says he is."
Despite the bloody implications of this being a Tarantino film, the footage looks pretty funny. The director himself even told Entertainment Weekly recently that the film strives to be the "funniest snow Western ever made," and that becomes apparent when Leigh's Daisy mimics a noose around her neck when Russell's Ruth talks about carting her off to her death. When contrasted with the intense music plaguing the trailer, these dark comedic moments pop even more. It's not unlike Tarantino to infuse humor into his gory films, as we've seen time and again with Django Unchained and Kill Bill, but Tarantino said The Hateful Eight is even funnier than The Great Silence, Day of the Outlaw and McCabe & Mrs. Miller. Strange comparisons.
Another selling point of the trailer comes in the final seconds when a title card requests that you "see it in glorious 70mm (ultra panavision 70)." This has been a major push from Tarantino, who made the film using 65mm negative and Ultra Panavision 70 anamorphic lenses. He wants audiences to see Hateful Eight the way he intended, and according to reports, plans are trying to be worked out to have about 50 theaters in the U.S. screen the film in this format. It's said to be the widest 70mm release in the past 20 years, though Weinstein is also offering 35mm and digital formatting options for theaters that are not able to accomodate.
The Hateful Eight is one of our most-anticipated films of the year, given early hype surrounding the first teaser trailer and poster. It'll finally premiere in select theaters this Christmas before going wide on January 8, 2016.
Your Daily Blend of Entertainment News
Thank you for signing up to CinemaBlend. You will receive a verification email shortly.
There was a problem. Please refresh the page and try again.