Wait, Quentin Tarantino's The Hateful Eight Might Be A Comedy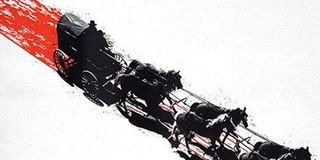 It's always good to be reminded that The Hateful Eight is being released later this year. Because of all of the superhero flicks and sequels that between now and the release of Quentin Tarantino's ninth film, the western can sometimes get lost in the cinematic mist. But coming it is. Fans will eagerly devour Tarantino's latest in droves, and when they do they'll be surprised to learn that it's a lot funnier than they imagined. That's according to the director himself.
Tarantino told Entertainment Weekly that The Hateful Eight is the "funniest snow Western" that has ever been created. But, at the same time, he also made sure to remind people that it will still be as bleak and gruesome as his other films. Tarantino insisted:
It's hardly surprising to hear that The Hateful Eight will be funny. Quentin Tarantino has always managed to litter his films with unexpected quips and jokes organically generated from the plot or violence involved. Whether that's been Vincent Vega inadvertently shooting Marvin in the face, Adolf Hitler's rant in Inglorious Basterds, or Samuel L. Jackson's surprisingly violent death in Django Unchained.
But what exactly are the the three films that the legendary cinephile pointed out? Well, each of them are regarded as some of the finest westerns ever created. The Great Silence was released in 1968 and comes from the mind of Sergio Corbucci (it also boasts a Ennio Morricone score), while Day Of The Outlaw is Andre De Toth's last Western, and even though it was originally received poorly has since garnered a cult status.
McCabe & Mrs. Miller was Robert Altman's attempt at a Western, but the director always referred to it as an anti-western. Its reputation was solidified in 2010 when McCabe & Mrs Miller was selected to be preserved in the United Stated National Film Registry by the Library of Congress because of how "culturally, historically, or aesthetically significant" it is.
In all likelihood, Quentin Tarantino's The Hateful Eight probably won't overtly resemble any of these films. Instead, he will simply use these as touchstones during the construction of his western, before punctuating the flick with his own idiosyncratic, and some might say overly violent, tendencies. And his devotees wouldn't want it any other way. The Hateful Eight will have a limited 70mm release on December 25, before then hitting cinemas across the country on January 8, 2016.
Your Daily Blend of Entertainment News