Corbin Bernsen Will Save The Soap Box Derby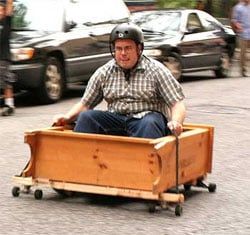 Remember the soap box derby? Me neither, but Corbin Bernsen still does. In fact, he remembers it so fondly his next movie project is not only about the derby race, but also about saving the whole institution of flying down a large hill in a wooden box on wheels. The Hollywood Reporter has it that Bernsen's next directing project will be 25 Hill, a story about a boy losing his father, and with that a chance at competing in the local soap box derby race. The film has a small budget (500k), but will be community centric. Akron, Ohio is the location and Bernsen was attracted to the project when he heard the soap box derby had massive outstanding debt. His goal with 25 Hill is raising enough money to save the derby.
Bernsen's last project, Rust is in the same community-based vein. It's a movie that stemmed from Bernsen's dealings with Kyle MacDonald who famously traded a paper clip for a house. Bernsen met MacDonald and eventually brought the movie Rust to MacDonald's town of Kipling Saskatchewan. The town raised money to shoot the film and many residents had roles in the production.
Now Bernsen will do the same with Rubber City, Ohio. The town is raising money to finance production on the derby movie and chipping in with things like catering. Bernsen's goal is to raise enough money through the family film get All American Soap Box Derby back on four wheels. It's an admirable goal for an almost forgotten past time.
Your Daily Blend of Entertainment News
Doug began writing for CinemaBlend back when Terminator: The Sarah Connor Chronicles actually existed. Since then he's been writing This Rotten Week, predicting RottenTomatoes scores for movies you don't even remember for the better part of a decade. He can be found re-watching The Office for the infinity time.