Could The Avengers 2 Include More Women? Joss Whedon Seems To Hope So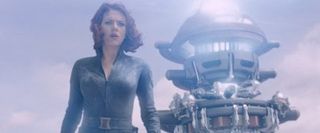 Last week, with everyone still in the throes of Avengers mania and speculating on just how many more Marvel movies Joss Whedon could make, our own Jesse Carp took things in a different directions and laid out the five reasons that Joss Whedon and Scarlett Johansson should reteam for a Wonder Woman movie. After all, the vocally feminist director helped Johansson turn Black Widow into an excellent female character, capable of holding her own against Russian interrogators and even the rest of the male-dominated Avengers team. Why shouldn't they join forces to give the original female superhero her due?
The Wonder Woman idea is just speculation, of course, since Marvel is probably doing everything in their power to keep Whedon and Johansson on their team. But in the meantime, both the director and the actress may be angling to bring a little more girl power to the Avengers themselves. In a chatty roundtable interview with the entire Avengers cast, Entertainment Weekly floated the question of which characters ought to be added in an Avengers sequel-- a topic we tackled ourselves, you might remember. The question wasn't specifically about adding women to the cast at all, but Whedon took it in that direction immediately anyway, in his own jokey way: "I think we need to get some more men on the team." Chris Hemsworth followed up on the joke, looking around the guy-filled room and saying "Yes, there are too few of us."
Johansson jumped in on the conversation from there, and Samuel L. Jackson chimed in with his own tips on female comic book heroes who aren't exactly what Whedon considers feminist icons. Here's a small snippet of that very rambling conversation:
The conversation only rambles on form there, and sadly, no one gets Whedon to make any concrete promises about bringing in, say, Wasp for The Avengers 2-- and no one mentions the name Wonder Woman. But his eagerness to talk about female superheroes is just a little more evidence that the famous feminist is itching to make room for some women in his superhero work in the future-- and provided he doesn't get distracted by the presumably dozens of projects being offered to him now, a female superhero may not be far off in the future.
So while Whedon weighs his future options, what do you want him to do? Let us know in the comments which women you'd like to add to the Avengers lineup, or if you'd rather he follow his Wonder Woman dream instead.
Staff Writer at CinemaBlend
Your Daily Blend of Entertainment News
Thank you for signing up to CinemaBlend. You will receive a verification email shortly.
There was a problem. Please refresh the page and try again.