Richard Linklater's Latest To Take Another Unusual Look At Family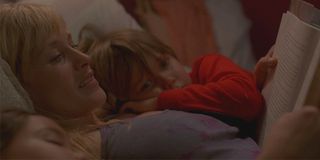 While Richard Linklater flew closer to the Best Picture Oscar sun with his Golden Globes-dominating film, Boyhood than he ever had before, the prestigious gold statue ended up eluding him. (Save for the Best Supporting Actress win for Patricia Arquette.) Now, the Texas filmmaker is circling another project that could end up, in much the same spirit of Boyhood, being an innovative, original look at the concept of family based off a book called Where'd You Go Bernadette.
According to The Hollywood Reporter, Richard Linklater is in talks for a directorial effort that would be an adaptation of the 2012 best-selling novel by Maria Semple, Where'd You Go Bernadette: A Novel. The novel's satirical, unorthodox plot depicts a young girl's quest to find her brilliant, but capricious mother at the ends of the Earth. The film could very well continue the usage of what now seems to be Linklater's new thematic toy, the idea of a depiction of family.
The plot of Bernadette focuses on a Seattle-based woman named Bernadette Fox, who is depicted as being somewhat of a misunderstood genius. Once celebrated as an innovate architect with a successful husband in the tech industry and possessing a special relationship with her 15 year-old daughter, Bee, she nevertheless seems to find herself misunderstood by conventional folks. The pressure begins to stifle her creative nature, which, for some reason, has caused her to suffer a bit of agoraphobia. She's on the edge and her life is barely held together by a virtual assistant based in India. In an inexplicable whim, Bernadette uses a family trip to Antarctica (where creative, eccentric people love to holiday,) as an opportunity to completely disappear off the face of the Earth. The story then becomes a duel narrative about young Bee's investigation to track down her mother and of Bernadette's own journey of self-realization.
The story may sound like a case of an agenda-driven author injecting a sense of self-aggrandizement into a rather indulgent, transparently-crafted protagonist designed to make a statement about the world's inability to understand her own genius. However, the storyline is much more self-deprecating and satirical than it sounds. In fact, it could provide Richard Linklater with a lot fertile ground to explore his new-found focus on the family unit, with this rather eccentric group and their absurd predicament which seems to amalgamate the 1990's children's property, Where in the World is Carmen Sandiego? with Ayn Rand's own "misunderstood genius architect" story, The Fountainhead.
At this point in his career, Linklater, who first garnered attention for the subversive quasi-vérité filmmaking style of 1991's Slacker, seems to be looking at the past to draw themes to his current, more drama-driven projects. In that sense, Bernadette seems to fit that archetype. Demonstrating this idea, is the fact that Linklater recently claimed that his next picture, That's What I'm Talking About, a 1980's period piece focusing on the lives of college baseball players will be a "spiritual sequel" and "continuation" to both his 1993 breakthrough, Dazed and Confused and the recent Boyhood. (For which Linklater recently teased a more conventional sequel.)
We could probably surmise that the centerpiece relationship between mother and son which successfully garnered Patricia Arquette her Oscar with Boyhood might shift Linklater's focus to the clearly eccentric relationship between Bendadette and Bee -- in that sense, bringing it into this "spiritually" connected series of his films. However, this one won't likely take him 12 years.
Your Daily Blend of Entertainment News