Could Frozen's Continued Success Take It To Broadway?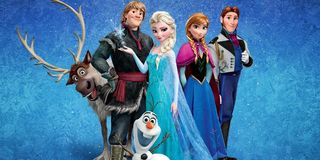 Disney's Frozen is proving a greater force than that lame polar vortex this winter. But beyond box office success, could Broadway be calling?
Yahoo thinks so. The Disney studio hasn't announced any plans to turn the hit movie musical into a Broadway musical just yet. One Disney exec even claims, "There's been no discussion on doing that with Frozen yet." But then he/she added, "We are obviously aware how powerful it is and how powerful the music is." So are we.
Aside from the fact that Cinema Blend staffers haven't been able to shake the catchy songs from Frozen out of our mental playlists for weeks, the movie's soundtrack just hit the top of the Billboard Music charts, making it the best-selling album out there right now. This is little surprise considering how the songs have caught on online, thanks to Disney posting musical excerpts from the film, which have then sparked stellar fan versions.
The most popular track appears to be Elsa's declaration of self-discovery "Let It Go," beautifully belted by Broadway icon Idina Menzel. But of course Menzel, who previous appeared in Wicked and Rent, isn't the only Broadway star lighting up Frozen's soundtrack. Jonathan Groff, who lends his voice to Kristoff the unfortunate ice salesman, starred in Spring Awakening, while Santino Fontana, who played Prince Hans, has a long list of Broadway credit, most recently appearing in Rodgers + Hamerstein's Cinderella. Josh Gad, made his name by performing in the comedy musicals The 25th Annual Putnam County Spelling Bee and The Book of Mormon. But you might know him best as Olaf, the lovable snowman who craves summer sun.
It's dizzying to imagine Disney bringing these talents together on the Great White Way, but realistically that won't happen as all of the above are pretty in-demand. However, as Frozen continues to do bank at the box office, the chances of a Broadway version coming to light are more likely.
It's already become Disney's highest-grossing animated picture in Russia, the UK, and Mexico. And heading into its eight weekend, the film has made more than $300 million domestically, putting it on track to beat Disney's domestically highest-grossing animated effort The Lion King, which boasted $422 million with 26 weeks in theaters. With $643 mil worldwide, it's thought that Frozen might not only surpass The Lion King's record ($765 million worldwide), but might also break a billion dollars. Still playing on 3,318 and proving a returning box office champ, this Disney princess adventure has become pretty unstoppable. Or as Disney EVP of distribution Dave Hollis put it:
Disney animated efforts to hit Broadway include Tarzan, The Little Mermaid, and The Lion King as well the upcoming Aladdin, which will open on March 20th. The most successful of these to date, has fittingly been The Lion King. The six-time Tony Award winner has been on Broadway and in national tours for 17 years, earning a cumulative $1 billion, a first for Broadway. Could Frozen be translated to a Broadway show on that scale? Time will tell.
Staff writer at CinemaBlend.
Your Daily Blend of Entertainment News
Thank you for signing up to CinemaBlend. You will receive a verification email shortly.
There was a problem. Please refresh the page and try again.